GTA: The Criminal Enterprises - The Loop
Play Sound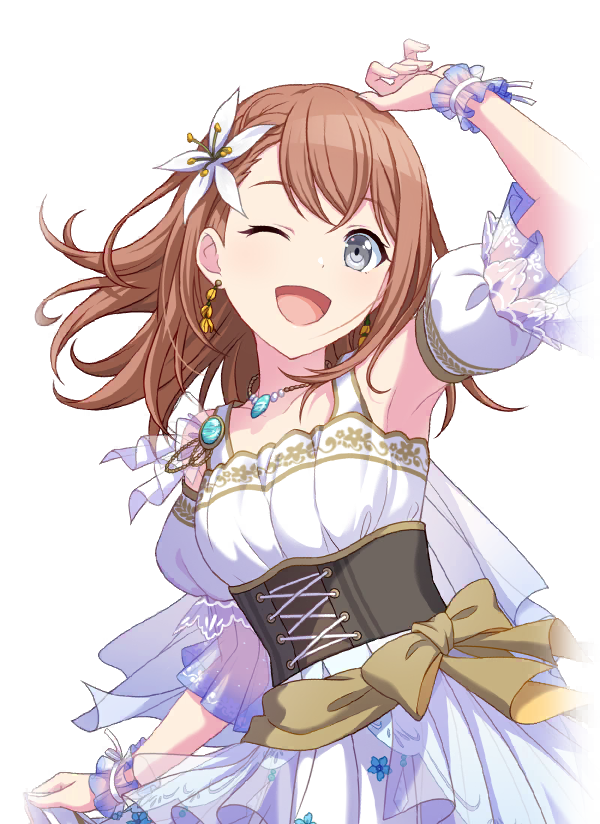 Hanasato Minori
"Let's do our very, very, veeeery best!"
―Hanasato Minori

Hanasato Minori (花里みのり) is a first-year student at Miyamasuzaka Girls Academy. She is a member of the idol group MORE MORE JUMP![1]
She is classmates with Shiho and Kohane in class 1-A.
Background
Minori is hard-working and driven, traits that can be seen in her single-minded pursuit of a career as an idol. Becoming an idol has been her dream ever since she saw Haruka performing in the idol group ASRUN. Minori has been to a lot of auditions, but so far with no success.
—Profile
Minori has been a big fan of Haruka from the idol group ASRUN ever since she saw Haruka performing on TV. Like her longtime inspiration, Minori has also set her sights on becoming an idol. She has tried her hand at over 50 auditions but failed every time. Despite this, she never gives up and continues to try in order to achieve her dreams.
While practicing on her school's roof, she meets Haruka - who, along with Airi and Shizuku, help her train to become a fully fledged idol. Not too long after, and thanks to Minori's positive and hardworking nature, they all end up forming MORE MORE JUMP! together.
She is part of the animal care committee with Kohane.
Appearance
Minori has light grey eyes and shoulder-length light brown hair, worn loose with blunt bangs. Her hair has a braid to her right side clipped back with an orange and white flower pin. In her 2D model, she wears pinkish-orange lipstick. Her voice is gentle, loud and optimistic.
Minori shares a similar outfit to that of the rest of her group members: a white sleeveless blouse with a black ribbon underneath a vest, a black and white ruffled skirt with multiple layers, a loose black belt adorned with the group's three-leaf clover motif, and white heeled shoes. The design of Minori's vest is the same as Haruka's. Minori's outfit differs with the color orange accenting her outfit and a white ruffled arm band on her upper right arm.
During school hours, she wears the standard grey uniform for Miyamasuzaka Girls Academy with the standard red ribbon. She does not wear a cardigan.
While training with the rest of her unit, she wears a light blue shirt with an otter printed onto it and white shorts.
After school and practice, Minori wears a pale orange sweater with a white blouse underneath, a reddish-brown tin bowtie, and a long, pastel yellow skirt with a frilly layer beneath.
While she is at her part-time job, she wears a blue, stylized, traditional maid outfit. The blouse is light blue, the collar having a blue trim. The suspended skirt has two layers — the bottom one being dark blue and the second one being a light blue with black lacing — a short, white, frilly apron acting as a third layer.
Personality
Minori is an optimistic, hard-working and innocent-minded girl who has shown her determination and dedication to becoming an idol, something others often compliment her on. She is clumsy, thus having a tendency to get panicked easily, and often has trouble keeping her composure. This is accompanied by her habit of saying whatever's on her mind, and she seems to find it easier to express her emotions without restraint, be it willingly or not.
She looks up to many of her friends and classmates and aspires to be like them, motivating her. As she grows as both a person and an upcoming idol, she desires to bring the happiness that Haruka used to feel as an idol before retirement. Although it may not seem like so upon first meeting her, she's an empathetic and emotionally mature young girl. She has a habit of repeating the phrase "more and more" (motto motto in Japanese).
Etymology
Hanasato (花里): Hana (花) means "flower" and Sato (里) means "village".
Minori (みのり) means "to bear fruit".
Game Interactions
A list of characters Minori interacts with in the game.
Relationships
Kiritani Haruka: A longtime idol of Minori's, who is now also a fellow group member and friend. Minori wants to be just like her, and praises Haruka to a sometimes uncomfortable degree.
Momoi Airi: A fellow group member and friend. Airi is teaching Minori how to be an idol. Though she can be harsh on Minori, especially when they first met, Minori values Airi's passion and experience.
Hinomori Shizuku: A fellow group member and friend. Minori is fascinated by her beauty while Shizuku sees her as a good friend.
Hoshino Ichika: A schoolmate she became friends with during the Singing Among the Cherry Blossoms event.
Mochizuki Honami: A schoolmate and friend of Minori's. The two of them often walk their dogs together.
Azusawa Kohane: Minori and Kohane are best friends and they were also each other's first friend in high school.
Songs
Minori is featured in the SEKAI version or has an alternate vocal of the following songs:
Introduction Video
Trivia
She has a younger brother who is currently in elementary school.
Minori's favorite food is salmon.
She owns a pet Samoyed named Samo-chan.
She is the same height as Miku and Ena at 158 cm.
References