GTA: The Criminal Enterprises - The Loop
Play Sound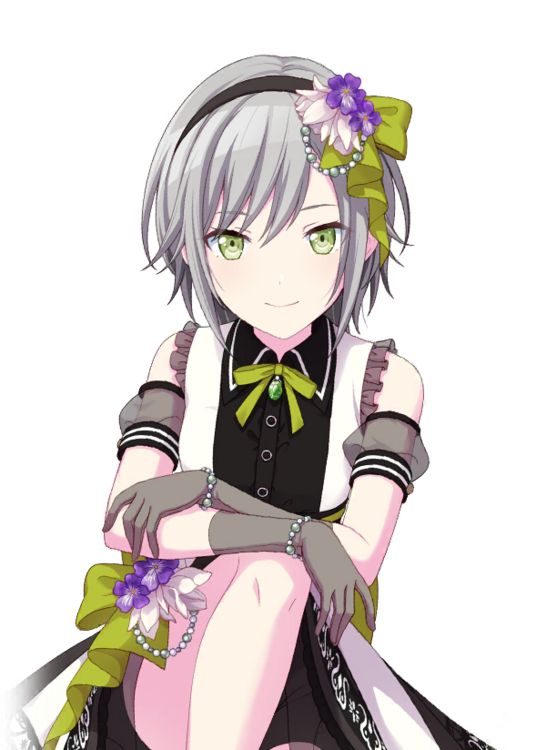 Hinomori Shiho
"Leave me alone. I got stuff to do."
―Hinomori Shiho

Hinomori Shiho (日野森志歩) is a first-year student at Miyamasuzaka Girls Academy. She is the bassist of Leo/need.[1]
She's childhood friends with her bandmates.
Background
Leo/need's bassist. Shiho needs her space and dislikes clingy people. She tends to get totally absorbed in her hobbies and doesn't care what others might think of her. She used to be very close with her band members until something happened that caused a rift in their relationship.
—Profile
Shiho and Ichika, Saki, and Honami were friends as children. The group used to stargaze and play music, but because of Saki's hospitalization during middle school, Shiho's relationships with Ichika and Honami became strained. Other people tried to befriend Shiho, but she had no interest in them, giving her a bad reputation. Due to this reputation, she made Ichika and Honami stop talking to her, in fear of dragging them down with her. After Saki returns to school and they access the School SEKAI, the group slowly reunites and forms Leo/need, named after the meteor shower they watched together as children.
When she was in middle school, she had joined a band of unspecified girls. Shiho claims that her past bandmates could barely play half a song without ruining it, and when she brought it up, the group got into an argument, leading them to split up and giving Shiho her bad reputation.
She is also classmates with Minori and Kohane.
Appearance
Shiho has green eyes, a resting poker face and short, scruffy gray hair.
Her casual outfit consists of a dark green dress shirt with both yellow and white lining and a hood, white socks and black and white sneakers. Her dress-shirt says "Everything [. . .] Started from here" with the numbers "487" in-between the two texts, both written in a gold-yellow.
Her band uniform consists of a white, sharp-ended blouse with a red and white stripped tie in the form of a bow, covered with a cropped, light green jersey with a purple and white line on her right arm, a black glove on her left hand, a black skirt with light green lining and black sneakers with black cropped socks. One of the pleats on her skirt is also a light green.
During school hours, she wears the standard grey uniform for Miyamasuzaka with a black open jacket placed on top.
During the Miyamasuzaka Sports Festival, she wore a gym uniform that consisted of a pair of navy blue shorts with a white stripe on each side, a light blue headband, and a white t-shirt with blue cuffs and her name, along with the name of her homeroom, engraved on the shirt.
Personality
Shiho is very introverted and dislikes interacting with others. She immerses herself in things she likes and doesn't care what other people think. While she cares for her childhood friends deeply, she is not afraid to be tough on them when she feels it's necessary. Her cold, alienating demeanor comes from her fear of hurting and dragging down those around her.
She takes band practice very seriously, and often leads the group due to her having the most experience. She wants to pursue music as a professional someday.
Because of her ego-less persona, rumors about her spread throughout the girls' academy — most of which claimed her to be a bully, often plotting something. When she praises someone, it's usually either short, frank and/or passive.
Etymology
Hinomori (日野森) means means "a sunny forest".[2]
Shiho (志歩): Shi (志) means "determination, aspiration", and Ho (歩) means "(the) number of steps".
Game Interactions
A list of characters Shiho interacts with in the game.
Relationships
Hoshino Ichika: Childhood friends and bandmates. Shiho initially did not want to talk to Ichika due to their schoolmates finding Shiho rude and talking badly about her friends. Ichika appreciates Shiho's honesty, talent and will to improve.
Tenma Saki: Childhood friends and bandmates. While their relationship was once strained and awkward, they have since made up. Shiho can occasionally get annoyed by her carefree attitude, but also worries deeply for her well-being and praises her for doing well in practice.
Mochizuki Honami: Childhood friends and band-mates. While their relationship was once strained, they have since made up. Shiho can occasionally be a bit harsh to Honami, but only as a form of "tough love". Sometimes, Shiho will accidentally call Honami "[older/big] sister".
Hinomori Shizuku: Shiho's older sister. Shizuku dotes on Shiho frequently, even showing up to her class at school, which annoys Shiho.
Hanasato Minori: Classmates from 1-A.
Azusawa Kohane: Classmates from 1-A. Kohane was intimidated of her at first because of her harsh demeanor, but wants to be able to talk to her more.
Tenma Tsukasa: Saki's older brother. According to this 1-koma, she thinks he's a loud-mouth.
Otori Emu: The two became friends after Musical Twilight Parade. As shown in one of their live interactions, Shiho became flustered after Emu tried getting her to do the "wonderhoy" pose as well.
Songs
Shiho is featured in the SEKAI version or has an alternate vocal of the following songs:
Introduction Video
Triva
Shiho's bass is modeled after a Fender American Elite Jazz Bass (Ebony, Ocean Turquoise).
She has a bunny game on her phone.
Shiho is a big fan of Phenny the mascot and she actively collects Phenny merchandise. In a spring menu line, she expressed frustration over not being able to buy the limited edition Phenny plushie immediately due to having to be at school.
References