GTA: The Criminal Enterprises - The Loop
Play Sound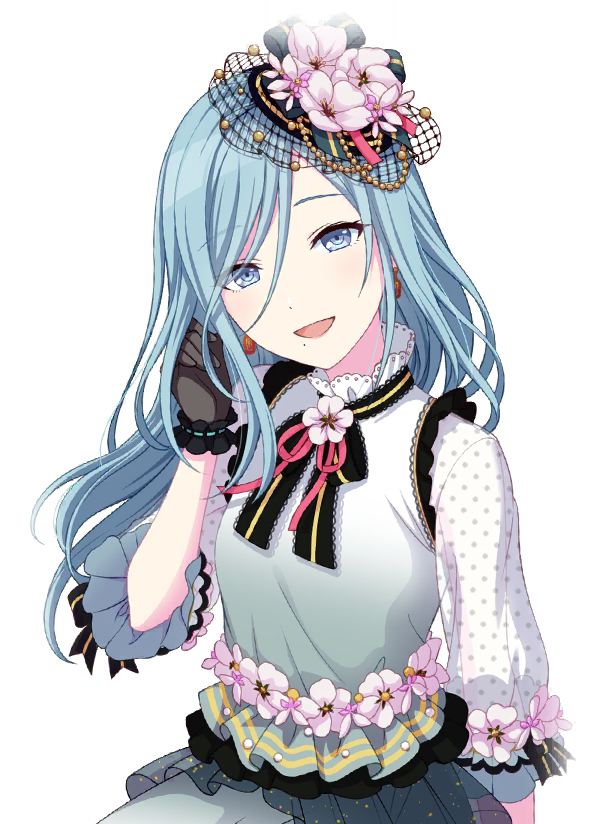 Hinomori Shizuku
"Is this truly the idol life that I dreamed of…?"
―Hinomori Shizuku

Hinomori Shizuku (日野森雫) is a second-year student at Miyamasuzaka Girls Academy. She is a member of the idol group MORE MORE JUMP![1]
Background
Shizuku is affiliated with the idol group Cheerful*Days. Her mysterious and mature aura are a hit with her fans, but have earned her the jealousy of fellow group members. She's classmates with Airi.
—Profile
Shizuku is a former member of the idol group Cheerful*Days. Her friend applied to the position for her without Shizuku's knowledge, but she decided to run with it after being accepted. She trained to become an idol at the same time as Airi, who openly viewed her as a rival. She is best known among fans for her mysterious and mature appearance, however this causes jealousy from the other members of her group, who think she has no talent and is only popular for her looks.
Shizuku decided to leave her group when she meets Minori, who she agrees to help train along with Airi. She agrees to join MORE MORE JUMP! along with Minori and Haruka after Airi gives her hope that she can be more than her looks.
She is a member of the beautification committee with Honami and also the archery club with Mafuyu.
Appearance
Shizuku has light blue eyes with long eyelashes and long, light blue hair, worn loose and wavy, some of which covers her face. She also has a beauty mark near her lip.
Shizuku shares a similar outfit to that of the rest of her group members: a white sleeveless blouse with a black ribbon underneath a vest, a black and white ruffled skirt with multiple layers, a loose black belt adorned with the group's three-leaf clover motif, and white heeled shoes. The design of Shizuku's vest is similar to Airi's. Shizuku's outfit differs with the color teal accenting her outfit and a thick yellow bracelet on her left wrist.
During school hours, she wears the grey standard uniform for Miyamasuzaka Girls Academy with a red ribbon and a white cardigan, along with black tights.
For a casual outfit, Shizuku wears a white baggy top that show her shoulders with long sleeves that frill out at the end, buttons going down the middle, a long cutaway collar, tied together with a black belt on her hips. She also wears a long skirt with two layers; the lower layer being a pale, semi-transparent blue fabric, the top layer being a denim, also light blue with a sky blue stripe at the end. The skirt has three buttons.
While training on the rooftop, she has a purple tank-top, a white cropped jacket that is mostly open, lavender shorts with thin white stripes at the bottom and black tights. Sometimes she'll tie her hair in a loose ponytail.
Personality
Shizuku has a kind and mature personality. She worries a lot about disappointing her fans, feeling she must maintain a "perfect" image, but is beginning to show her true self. While she may appear very calm and poised (and often is), she does have some quirks, such as drinking miso soup during dance practice and being extremely bad with technology. As she grows as an idol, she desires to no longer display the past image she was forced to maintain in order to feel comfortable and stay true to herself, no matter what. It was thanks to the members of MORE MORE JUMP! and Airi that she realized this and gained the courage to declare this change.
Like her voice, she is light and airy; a running gag in Shizuku's pre-upgraded cards being Airi stopping her from spilling something while Shizuku gets distracted by someone or something nearby. According to her sister Shiho, she loves going on walks but can't remember any of the street names. As shown in multiple area conversations, she gets lost even in places familiar to her, such as the shopping mall.
Etymology
Hinomori (日野森) means means "a sunny forest".
Shizuku (雫) means "droplet".
Game Interactions
A list of characters Shizuku interacts with in the game.
Relationships
Hanasato Minori: Fellow group member. Shizuku supports her dream of becoming an idol and is inspired by her desire to give people hope.
Kiritani Haruka: Fellow group member. They've performed together before forming MORE MORE JUMP! Haruka has shown to be secretly jealous towards Shizuku and her popularity, working herself to the bone to try and become as great as her companion.
Momoi Airi: Fellow group member. The two debuted at the same time and are very close. Shizuku has a great respect for her confidence and work ethic, seeing Airi as "her idol."
Hinomori Shiho: Shizuku's younger sister. Shizuku likes to dote on her a lot, due to the little time they were able to spend together since Shizuku was often busy with work. Shiho doesn't like her since she always "bothers her." However, Shizuku wants to help her reconcile with her friends.
Tenma Tsukasa: Shizuku's childhood acquaintance. As Shiho and Saki were childhood friends, Tsukasa and Shizuku were also friends, just not as close as their siblings. They used to play in the park together.
Shiraishi An: Despite meeting first time in wedding photoshoot. An already knew Shizuku since she used to be part of an idol group called Cheerfuls*Days, while Shizuku knew An from Haruka. Shizuku later helped An modeling for a photoshoot. Since then, they became good friends and Shizuku enjoys teasing An about Akito, much to her embarassment.
Songs
Shizuku is featured in the SEKAI version or has an alternate vocal of the following songs:
Introduction Video
Trivia
She is the tallest member in MORE MORE JUMP! and the tallest of all female characters, being 168 cm.
Shizuku's favorite foods are udon noodles and tofu skins.
She is terrible with any technology to the point that she might break it.[2]
References