GTA: The Criminal Enterprises - The Loop
Play Sound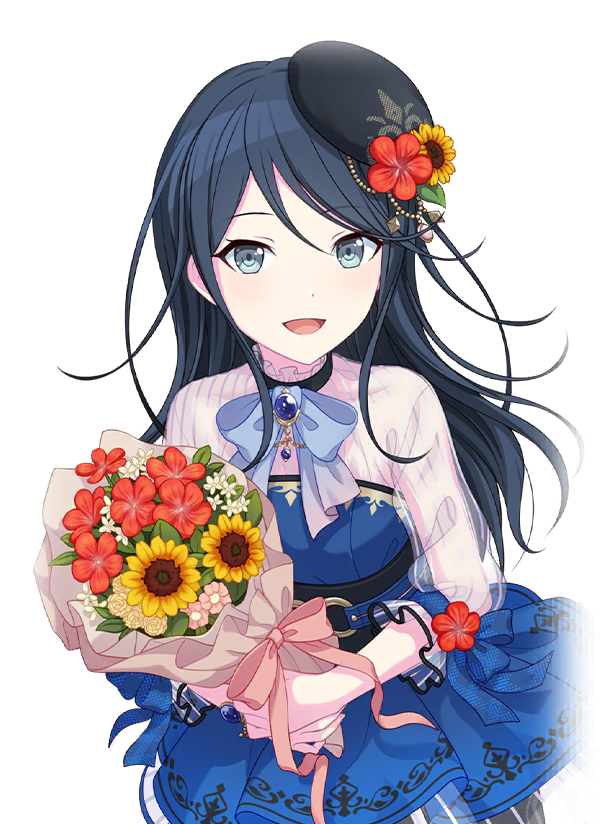 Hoshino Ichika
"I wonder if every day will just be the same as always."
―Hoshino Ichika

Hoshino Ichika (星乃一歌) is a first-year student at Miyamasuzaka Girls Academy. She is the main vocalist and guitarist of Leo/need.
She is childhood friends with her fellow bandmates.
Background
Leo/need's vocalist and guitarist. Seems aloof at first glance, but is friendly and caring when you get to know her. She's known Saki, Honami, and Shiho since they were little, but a certain event drove a wedge between them. Ichika loves listening to Miku songs.
—Profile
Ever since Ichika was a child, she loved Hatsune Miku and her songs. Ichika would often sing Miku's songs while playing the guitar she received from her father.[1]
Ichika, Saki, Honami and Shiho were friends as children. The group used to stargaze and play music, but after Saki was hospitalized during middle school, Ichika's relationships with Honami and Shiho became strained. Ichika still attempts to communicate with the two during this period, but gets little in response. After Saki returns to school and they access the School SEKAI, the group slowly reunites and forms Leo/need, named after the meteor shower they watched together as children.
She is also classmates with Haruka.
Appearance
Ichika has blue eyes and long black hair, worn loose and flying about.
Her casual outfit consists of a red and black plaid flannel under a grey hoodie jacket, along with black denim pants and black and white sneakers.
Her band uniform consists of a black tank top covered by a white sleeveless blouse, a black skirt with blue lining and a blue coat wrap around her waist, and black boots with matching socks. Her accessories consist of a black fingerless glove worn on her right hand, a red ribbon with white diagonal stripes on her gloved hand, and a pair of mini belts on her right thigh.
Personality
Although Ichika seems stoic and serious at first glance, she is a quiet, modest, and kind girl who is always thinking about her friends. Adding to her kind nature, and despite her insistence, she is good at complimenting others. According to Honami, she doesn't always communicate very well.
At the start of Leo/need's Main Story, Ichika was listless, without much of a passion and was unable to gain the courage to bring her childhood friends back together, often wondering if things would continue this way. After Ichika discovers the School SEKAI, she gradually becomes more courageous and determined to reunite her friends.
Once Leo/need is formed, Ichika becomes happier with her friends and more passionate about music to the point where she even asks Nene to teach her how to sing. She also tries performing on the streets to improve her skill. She enjoys spending time with her childhood friends and cherishes them deeply. In Resonating with you, Ichika's passion and determination grows even stronger as she realizes what she truly feels.
Ichika loves Miku's songs and is always listening to them whenever she feels bored and looks at them for reference. She doesn't enjoy places with a lot of noise; for example, she doesn't enjoy visiting Phoenix Wonderland unless Saki goes with her.
Etymology
Hoshino (星乃): Hoshi (星) means "star" and No (乃) means "from; possessive particle".
Ichika (一歌): Ichi (一) means "one" and Ka (歌) means "song; singing". Together this means "one song", which she was named because her parents were brought together by a song.[2]
Game Interactions
A list of characters Ichika interacts with in the game.
Relationships
Tenma Saki: Childhood friends and bandmates. Ichika enjoys Saki's happy demeanor and persistent smile, while Saki is glad Ichika is always there for her. Ichika was the one to visit Saki during most of her time in the hospital (outside her immediate family), which Saki appreciates. Ichika sometimes worries that Saki is overworking herself while trying to experience everything she missed as a preteen. Ichika says she's good at cheering people up.
Mochizuki Honami: Childhood friends and bandmates. Their relationship became strained over the years due to Honami fearing that interacting with her would cause her classmates to bully her. Ichika says she's always kind to everyone.
Hinomori Shiho: Childhood friends and bandmates. Shiho initially did not want to talk to Ichika due to their schoolmates finding Shiho rude and talking badly about her friends. Shiho is very serious about the band and is their harshest critic, but Ichika appreciates her honesty and talent. Ichika says Shiho has good judgment.
Kiritani Haruka: Classmates from 1-C, and friends following the Run! Sports Festival! Committee Rush event. Ichika is one of the few people who does not treat Haruka differently due to her status as a former idol.
Kusanagi Nene: Friends following the Musical Twilight Parade event. Ichika admires her voice and aspires to sing like her. Nene gives Ichika singing lessons, per the latter's request.
Yoisaki Kanade: They see each other in passing at a music store, and both think to themselves that the other has very pretty hair.
Tenma Tsukasa: Ichika describes him as "good at waking people up."[3]
Hatsune Miku: Ever since she was little, Ichika had always loved and adored Miku. She often goes to her for advice and takes her words to heart.
Megurine Luka: Like Miku, Ichika looks up to Luka and values what she says.
Songs
Ichika is featured in the SEKAI version or has an alternate vocal of the following songs:
| Song Name | Producer | Date Added (JP) | Date Added (EN) |
| --- | --- | --- | --- |
| Roki | mikitoP | 2020/09/30 | 2021/12/07 |
| Hibana -Reloaded- | DECO*27, Rockwell | 2020/09/30 | 2021/12/07 |
| Teo | Omoi, Sakurai | 2020/09/30 | 2021/12/07 |
| Asu no Yozora Shoukaihan | Orangestar, Rockwell | 2020/10/01 | 2021/12/08 |
| Aoku Kakero! | marasy | 2020/10/17 | 2021/12/26 |
| Umiyuri Kaiteitan | n-buna | 2020/12/01 | 2022/01/12 |
| Dramaturgy | Eve, Numa | 2020/12/28 | 2022/01/02 |
| Time Machine | 40mP, 1640mP, 164 | 2021/02/10 | 2022/01/31 |
| From Y to Y | JimmyThumb-P | 2021/03/22 | 2022/03/24 |
| Ikanaide | Sohta | 2021/05/28 | 2022/03/14 |
| Roku-chou Nen to Ichiya Monogatari | kemu | 2021/07/12 | 2022/07/21 |
| Kagerou Daze | JIN | 2021/08/15 | 2022/08/15 |
| Lost One no Goukoku | Neru | 2021/10/02 | TBA |
| Ray | Fujiwara Motoo | 2021/10/12 | TBA |
| Hello,world! | Fujiwara Motoo | 2021/10/13 | TBA |
| Ghost Rule | DECO*27, Naoki Itai (MUSIC FOR MUSIC) | 2021/12/30 | TBA |
| Shinpakusuu♯0822 | Chouchou-P | 2022/01/24 | TBA |
| Bokura Mada Underground | Eve, Numa | 2022/03/03 | TBA |
| Asagao no Chiru Koro ni | Pusu | 2022/05/23 | TBA |
| Lost and Found | sasakure.UK, Yuukei Ranbeiji | 2022/08/14 | TBA |
Introduction Video
Trivia
Ichika is an ambassador for Pocari Sweat, a sports drink brand, and has appeared in the web movies "Nechusho No!No!" (Miku and MEIKO's News 39 ver.) and "Virtual Tokyo Supply Girl".
Her parents formed a relationship coincidentally through liking the same songs.
Ichika was born on August 11, making her a Leo, possibly referencing the name of her unit Leo/need, or vice versa.
Ichika's electric guitar is modeled after the Fender American Original '60s Telecaster (Lake Placid Blue).
Ichika's favorite food is yakisoba pan, which she buys every day at school.
Ichika and Miku are the two characters seen on the title screen and icon for the app.
References