GTA: The Criminal Enterprises - The Loop
Play Sound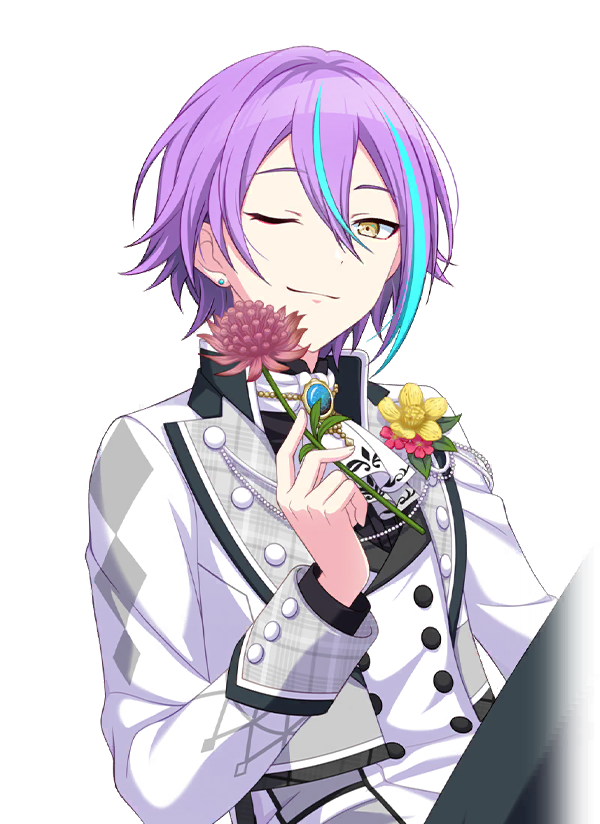 Kamishiro Rui
"Now then, let us put on the most magnificent of shows!"
―Kamishiro Rui

Kamishiro Rui (神代類) is a second-year student at Kamiyama High School. He is a member of the musical show unit Wonderlands x Showtime.[1]
Background
Nene's neighbor and childhood friend, Rui is an easy-going genius. He's meticulous about making every show the best it can be, making use of his flair for technology and inventiveness. He even builds robots to use on stage. His somewhat unique way of thinking often gets him labeled as a weirdo.
—Profile
Rui and Nene are next-door neighbors, as well as childhood friends. Rui was the one who recommended her to join the troupe. He manages the groups' stage performances and is both an actor and stage director for Wonderlands x Showtime. Rui is also very skilled in inventing machinery and creates animatronics for the shows.
Appearance
Rui has thin, yellow eyes with red eyeliner along the crease, with uneven, choppy purple hair with two cyan streaks. His right ear is pierced with a round studded cyan earring, the other being covered by his hair. His voice is gentle, though it becomes strained when he is excited or curious.
His show outfit consists of a yellow ribbon, navy dress shirt, black vest, and a long pink/purple tailcoat with a neon yellow/green splatter pattern over the shoulders and the bottom edge of the coat. He wears white pants with black knee-high boots and short, white gloves. The ends of his rolled sleeves contain short, white lace poking out of the ends. The inside of his tailcoat is the same yellow/green as the splatters on the coat with a darker checkered-rhombus pattern, the same rhombuses found in white on the lower wing collar and the hems of his boots. It's mentioned that a friend of his made this outfit for him.
For his casual outfit, he has a green-hooded jacket with the cuffs colored pink, orange, and green. The jacket is overlaying a shirt with a pattern of two diagonal stripes — one grey, the other white — and two other stripes going the opposite direction — one a pale blue, the other a darker blue with white stripes. The hem of his shirt is white and it is shown a cyan undershirt. He also wears black, baggy pants.
While at school, Rui is seen wearing a light grey cardigan and a loosely-worn red-and-blue tie atop a pink-white blouse, the first button undone. His sleeves are rolled up to meet at his elbows. He also wears blue pants.
When he was in middle school, he had a messy, blue striped tie, a wrinkly white straight-point shirt with a majority of the buttons undone, the pocket full of pens and notepads. He had a purple undershirt and wrinkly brown plaid pants. His hair was much messier, long and unkempt, one side poorly held back with a pin. He eyes did not have a pink tint and his smile was dull.
In his Live 2D model for his school's festival, his shirt is bright yellow with his classroom's number painted on it in orange. In a later event, he wears a tuxedo with a blue undershirt and an orange tie.
Personality
Rui lives by his own set of rules, which causes people to consider him a weirdo. He is almost always smiling and has a strange sense of humor that often causes others to misunderstand him. His behavior that causes people to avoid him includes using them as test dummies for his ideas and waterboarding them in swimming pools, as stated by Nene.
Rui also shows levels of curiosity that borderline on obsession, as he loves to take toys and home appliances apart to see how they work, as well as his openly expressed desire to take apart the plushies in the Wonderland SEKAI, to which Tsukasa reprehends.
He is shown to care deeply for his friends as shown when he defended Emu and the bright girl's dreams from her brothers, as well building NeneRobo to help Nene with her fear of talking to others. He is also a teasing and playful person, with an example being his constant ideas for performances that often involve putting Tsukasa's life in danger.
Etymology
Kamishiro (神代): Kami (神) means "god, deity" and Shiro (代) means "era". His surname can also refer to the time before the first emperor of Japan ascend the throne, where gods/deities are still governing the land.[2]
Rui (類) means "variety".
Game Interactions
A list of characters Rui interacts with in the game.
Relationships
Tenma Tsukasa: Rui's fellow group member and friend. After their first performance, which failed due to technical difficulties, Rui harshly criticized Tsukasa and deduced him to be a shallow narcissist who sees shows as a means to receive attention from people after the latter blamed Nene for the show's failure. However, Rui now sees him as an actor worthy of a stage, and is confident in giving him very taxing (and occasionally dangerous) stage directions, knowing that he will proudly take the role. Tsukasa thinks he's awesome but crazy. The two are a well-known "duo of weirdos" at school, causing ruckus and trouble around the campus daily.
Otori Emu: Rui's fellow group member and friend. Rui thinks she's wonderfully bizarre and Emu thinks he's very cool, being quite impressed and fascinated by Rui's bright and flashy style. The two are very encouraging of each other, Rui sharing Emu's goal of restoring the Wonder Stage to it's former glory. When Rui stands up for Emu against her older brothers, he is passive at first, but is quick to become harsh to them when they continue to belittle their younger sister and her dreams, shutting them down quick.
Kusanagi Nene: Rui's fellow group member and friend. The two are neighbors and childhood friends, and although Nene thinks of him as a weirdo she is still shown to be very caring towards him, with occasional concerns about his mental health. When they were very young, Nene had struggled with a big fear of talking to people. To try and combat this, Rui created NeneRobo to serve as an avatar that Nene could talk through, which helped to an extent. They both got inspired to perform as showcasts after seeing the same play. Rui was also the one to invite her to join the troupe, having known about her talent and hobby for singing. She agrees, but chooses to perform through Robo-Nene due to her anxiety. Rui wishes she'd get over her stage fright, and hopes to help her build the confidence to one day appear on stage herself.
Akiyama Mizuki: Friends since middle school. They bonded over being outcasts, hanging out on the roof together. In the Kamiyama High Festival event, Rui seems happy to see that Mizuki has found friends. According to Mizuki's second 1* story, Mizuki is the one who made Rui and Nene's stage outfits, after they ran into Rui working on Robo-Nene and found it totally uncute.
Songs
Rui is featured in the SEKAI version or has an alternate vocal of the following songs:
Introduction Video
Trivia
He is the tallest of all 26 main characters, being at 180 cm.
In the POP IN MY HEART!! event story, it is shown that he can speak English.
His favorite food is soda candy.
He has a robot resembling Emu and another resembling Tsukasa in his room.
Rui and Mafuyu's voice actress share the same first name.
Rui finds platypuses to be fascinating, due to being mammals yet still laying eggs.
References