GTA: The Criminal Enterprises - The Loop
Play Sound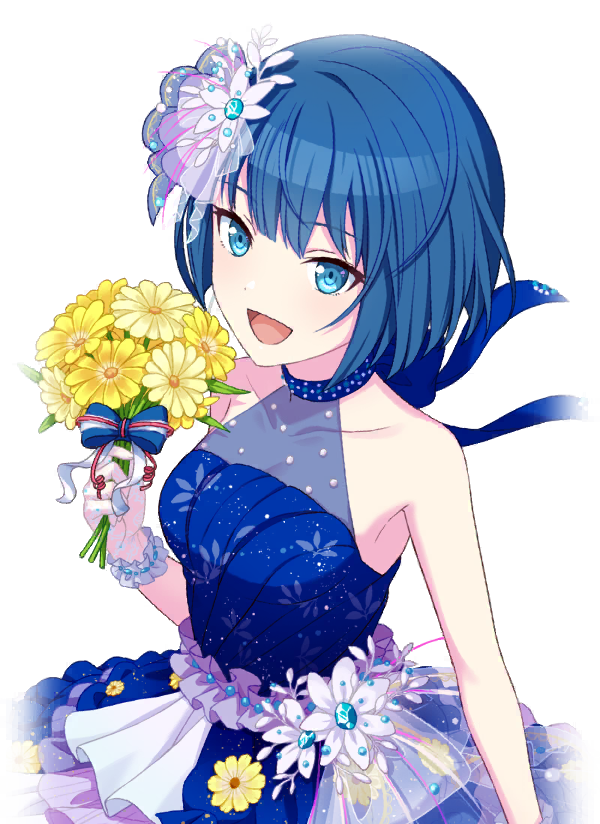 Kiritani Haruka
"Being an idol is not all as it's cracked up to be…"
―Kiritani Haruka

Kiritani Haruka (桐谷遥) is a first-year student at Miyamasuzaka Girls Academy. She is a member of the idol group MORE MORE JUMP![1]
She is classmates with Ichika and Saki in class 1-C.
Background
Haruka was a member of the nationally famous idol group ASRUN. Her incredible charisma made her the most popular member of that group, but unfortunately, it was disbanded. She goes to Miyamasuzaka Girls Academy, same as Minori.
—Profile
Haruka used to be part of the nationally-acclaimed idol group ASRUN, and had the highest popularity ranking among all the members of the group. After a falling out with one of the members of her group, she retires from being an idol and returns to the general course at Miyamasuzaka. After her retirement, she meets Minori on the rooftop when looking for a place to read. Soon, Minori, Airi, and Shizuku invite her to create MORE MORE JUMP! with them. She initially refuses, until she is given hope by former ASRUN member Mai.
Haruka deeply loves being an idol (particularly enjoying the view of the stage when all the penlights would turn blue) and was strongly motivated by delivering hope to her audience. Upon being called a liar by Mai out of frustration, Haruka began to see herself as incapable to be an idol and started to see the audience as an overwhelming pressure. Haruka would become instead desperate to deliver hope, gradually, she gives up on the notion of being an idol at all.
Afterwards, Haruka became slightly more melancholic, accepting that that was simply the way things would be. However, realizing that Minori had received her hope and being encouraged by MORE MORE JUMP!, she realized she wanted to be an idol once again. In return, she deeply values MORE MORE JUMP!, and becomes more cheerful. Seeing Minori similarly to Mai, Haruka shows to be worried whenever Minori gets herself potentially hurt.
Appearance
Haruka has calm blue eyes and short blue hair, worn loose and swept bangs that cover her forehead. Her voice is cool and warm.
Haruka shares a similar outfit to that of the rest of her group members: a white sleeveless blouse with a black ribbon underneath a vest, a black and white ruffled skirt with multiple layers, a loose black belt adorned with the group's three-leaf clover motif, and white heeled shoes. The design of Haruka's vest is the same as Minori's. Haruka's outfit differs with the color blue accenting her outfit, her blouse being tucked out of her skirt, and a thin yellow bracelet on her left wrist.
When she performed as an ASRUN idol, she wore a dress with a similar base to her MORE MORE JUMP! costume. The dress of the past had a pale navy blue skirt with two frilly layers ─ the bottom had been white with a blue stripe at the end and the top had been dark blue with a cyan stripe at the end ─ and a black hem with a black bow that a cyan jewel in the center and long, curled ends. She had a pale blue vest with a darker middle piece and gold lining that opened up at the top, once revealing a sky blue blouse with a tabbed collar and a blue tie. She had white cuffs and a black-and-white hairpiece with a cyan rose.
When she's out and about, Haruka wears a pale blue dress-shirt with a v-neck and hemming stitch below her hips. Below the stitch is a little bow. She has a black lacey undershirt, black pants and a white cardigan.
When she's practicing, she has an oversized hot pink silk hoodie with a large hood and black drawstrings. On her hoodie are little white text boxes with writing in them. The box on the top left reads "clover" and the box on the bottom right reads "Go back to the drawing bord". She wears black yoga pants with black-and-pink stripes on the sides.
Personality
Haruka is very charismatic, being the most popular member of the former idol group, ASRUN. In Minori's words, she is "The kind of idol who is able to give everyone hope for a better tomorrow".
Haruka is a strict and dedicated person, working in regular routines of rigorous workouts to stay at an idol's standard.
She restricts herself on sweets and pastries, which, in response, causes cravings. She is attentive to the schedules and specials of pastry shops. Haruka is cheeky and bold, unafraid to talk back and to tease her friends. She is rather sporty, liking basketball, and as a child she was competitive, having competitions over who could eat faster. She also loves penguins, owns a ton of penguin merch and sometimes gets emotional when receiving penguin merch as a gift.

Etymology
Kiritani (桐谷) means "paulownia", also known as "empress tree". In the language of flowers, paulownia means "noble".[2]
Haruka (遥) means "far off, distant".
Game Interactions
A list of characters Haruka interacts with in the game.
Relationships
Hanasato Minori: Fellow group member. Minori is a big fan of her. Haruka likes Minori but feels as though their relationship is complicated, disliking how she's put on a pedestal.
Momoi Airi: Fellow group member. Haruka thinks Airi is undervalued in the idol world.
Hinomori Shizuku: Fellow group member. They performed together before forming MORE MORE JUMP!, as ASRUN and Cheerful*Days members.
Hoshino Ichika: Classmates from 1-C and friends following the Miyamasuzaka Sports Festival event.
Tenma Saki: Classmates from 1-C and friends following the Miyamasuzaka Sports Festival event.
Shiraishi An: An and Haruka have been childhood friends since elementary school, however they were separated when Haruka went to Miyamasuzaka and An to Kamiyama High School. They still hang out together outside of school.
Otori Emu: Friends whom first officially meet through the Sports Festival Executive Committee during one of the planning sessions for the Festival, though Haruka had heard about Emu prior to this. When Emu expresses her desire to make the Sports Festival an event that leaves people motivated even when it's over, Haruka is reminded of Minori and her goal and determination to bring hope to people so they can continue to do their best. This similarity is what prompts Haruka to offer her support and help to Emu, to which the latter is grateful. From there they become good friends, both promising to continue doing their best together at the end of the Sports Festival.
Songs
Haruka is featured in the SEKAI version or has an alternate vocal of the following songs:
Introduction Video
Trivia
Haruka's favorite food is sweet things.
Haruka's mother is a nail stylist.
In Episode 15 of More More Jump!'s story, Airi mentions that Haruka is at least 16 years old.
References