"A band formed by a group of childhood friends who have learned to overcome their differences."
―Profile
Leo/need is an all-female band consisting of childhood friends.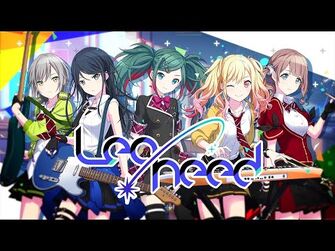 Background
The members of Leo/need were once childhood friends. However, a certain incident occurred during middle school, as the result their relationship became strained.
One day Hoshino Ichika discovers a song named "Untitled" on her phone. Upon playing it, she is transported to Sekai. There she meets Hatsune Miku who welcomes her to Sekai and invites her to sing together.
Sekai
A school campus bathed in the afterglow of the setting sun. Miku and Luka wait for the four girls in one of its classrooms, and once they meet, they work together to help them discover their true feelings.
Members
Members
Virtual Singers
Songs
Trivia
Leo/need is named after the Leonids, a meteor shower that happens in the radiant of the constellation Leo.

Leo is also the star sign for the guitarist, Hoshino Ichika.

Leo/need and 25-ji, Nightcord de. are the only units who never use their unit outfit at any point in the main story.
Leo/need is the second unit to have all six Virtual Singers in its Sekai, the first being Wonderlands x Showtime.
Leo/need's instruments are modeled after actual, real-world instruments.

Ichika's electric guitar is a Fender American Original '60s Telecaster (Lake Placid Blue).
Saki's synthesizer is a KORG KROSS 2 61-Key Synthesizer (GO, as in Gray-Orange). She shares this synthesizer with Rin.
Honami's drums are Yamaha Stage Custom (Cranberry Red). She shares this with MEIKO.
Shiho's bass is a Fender American Elite Jazz Bass (Ebony, Ocean Turquoise).
Miku's electric guitar is a Fender Stratocaster.
Luka's bass is a Fender American Standard Precision Bass.
MEIKO's electric guitar is a 1960 Mosrite The Ventures (Candy Apple Red).
KAITO's electric guitar is an Gretsch G5655TG Electromatic Center Block Jr. (Azure Metallic).
4★ Band
| | | | | |
| --- | --- | --- | --- | --- |
| |   | Welcome to the Nightmare 65px100px Template:Cards/new How to Spend New Year's Eve | Bonds and Sorrows 65px100px What Filled Me With Loneliness Was... | |
| | | | | Wiping Off the Twilight Rain 65px100px Doing Things My Own Way |
| | | | | |
| | | |   | |
|   | | 65px100px Unseen Feelings 65px100px Because You're Our Precious Friend | | |