GTA: The Criminal Enterprises - The Loop
Play Sound
"A unique idol group formed by one girl with a dream, and three other girls who had given up on theirs."
―Profile

MORE MORE JUMP!, often abbreviated to MMJ!, is an all-female idol group consisting of three once-retired idols and a passionate girl aiming to be an idol.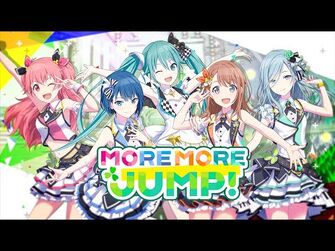 Background
A girl who wants to become an idol and three girls who faced the harsh reality of being an idol. Will the optimism overcome the obstacles? Will they reach this dream together?
—Colorful Stage Site

Hanasato Minori has dreamed of becoming an idol since seeing Kiritani Haruka on TV. After Haruka retires from being an idol, the two manage to become friends. Soon, Minori and the VIRTUAL SINGERs convince her to return to idolhood, forming MORE MORE JUMP! along with Momoi Airi and Hinomori Shizuku.
During practice, the group discovers a song named "Untitled" on their phones. Upon playing it, they are transported to the Stage SEKAI. There they meet Hatsune Miku and Kagamine Rin, who perform as idols in the Stage SEKAI.
SEKAI
Their SEKAI is a world of stages illuminated by countless glowsticks where the VIRTUAL SINGERs perform. The Stage SEKAI was created from the girls' dreams and the determination of becoming an idol. There are a vast amount of stages, and it is unknown how far the stages go on for.
Area Items
| Image | Kanji | English | Level Effect (Max) | Character/Unit | Charm Type |
| --- | --- | --- | --- | --- | --- |
| | アイドルグッズ | Idol Merch | 30% Boost on all stats | Hanasato Minori | |
| | 遥のペンライト | Haruka's Glow Stick | 30% Boost on all stats | Kiritani Haruka | |
| | ファンが作った愛莉のうちわ | Handmade Airi Fan | 30% Boost on all stats | Momoi Airi | |
| | 愛莉がくれたタオル | Towel From Airi | 30% Boost on all stats | Hinomori Shizuku | |
| | 緑のフラワースタンド | Green Flower Stand | 6% Boost on all stats | Hatsune Miku | |
| | 黄色いフラワースタンド | Yellow Flower Stand | 30% Boost on all stats | Kagamine Rin | |
| | クローバーオブジェ | Clover Decoration | 7.5% Boost on all stats | MORE MORE JUMP! | |
| | ポータブルスピーカー | Portable Speakers | 7.5% Boost on all stats | MORE MORE JUMP! | |
| | ミュージックスピーカー | Music Speakers | 1.5% Boost on all stats | VIRTUAL SINGER | |
Members
Members
Virtual Singers
Songs
Trivia
MORE MORE JUMP! is the third unit to have all six VIRTUAL SINGERs in its SEKAI, after Leo/need.
MORE MORE JUMP! was the first female-unit based SEKAI to introduce a male VIRTUAL SINGER.
A majority of MMJ!'s songs (in terms of sound) are comparable a mixture of Wonderlands x Showtime's and Vivid BAD SQUAD's songs and are usually more-or-less of what's expected of J-pop from a Western audience.
Both MORE MORE JUMP! and Vivid BAD SQUAD have the same base theme colors, but in different tones:
The group's members have names that are based on plants: Minori (flower), Haruka (empress tree), Airi (peach), and Shizuku (forest).
4★ Unit
| | | | | | |
| --- | --- | --- | --- | --- | --- |
| | | | | | |
| | | | | | |
| | | | | | |
| | | | | | |
| | | | | | |
| | | | | | |
References
Units

Main
Units

Hatsune Miku

•

Kagamine Rin

•

Kagamine Len

•

Megurine Luka

•

MEIKO

•

KAITO

Other
Units