GTA: The Criminal Enterprises - The Loop
Play Sound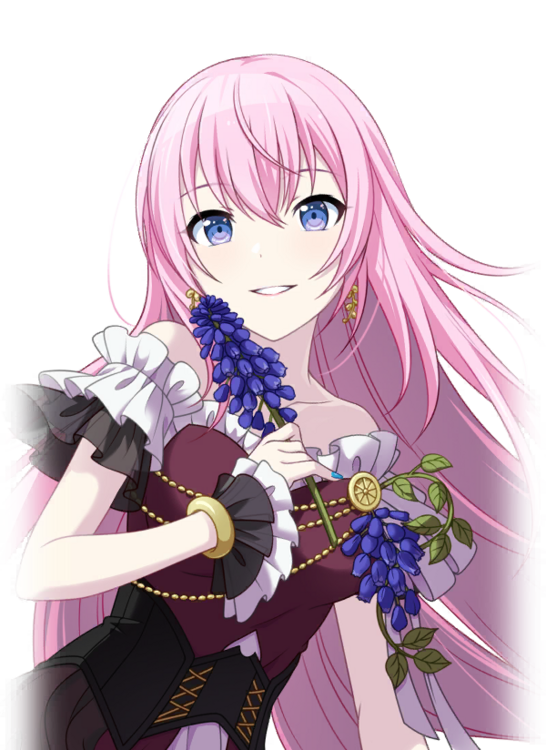 Megurine Luka
Megurine Luka is a Virtual Singer. She initially advises Leo/need in the School SEKAI.
This page only contains information about her role in the game Project SEKAI COLORFUL STAGE! For information about the software, see the VOCALOID Wiki and the Piapro Wiki.
Background
A VIRTUAL SINGER with long pink hair. She has a calm disposition, and an elegant, soft voice, which can brim with passion when singing emotional songs. She's bilingual, singing both in Japanese and English.
—Profile
Megurine Luka (巡音ルカ) appears in the real world as a Virtual Singer, but when young people have trouble understanding their true feelings, Luka and her fellow Virtual Singers appear in another world called SEKAI to help them.
In Leo/need's SEKAI, the School SEKAI, she is Miku's senpai. Together with Miku, she helps the girls to reconcile. Miku also states that she knows how to play all the instruments.
In MORE MORE JUMP!'s SEKAI, the Stage SEKAI, she, along with the Virtual Singers, form an idol group. She acts like an elder sister to Miku, Rin and Len. She is gentle and playful and possesses the talent of being able to stretch her cheeks wide.
In Wonderlands x Showtime's SEKAI, the Wonderland SEKAI, she becomes a cast member of the troupe. Although she often falls asleep, when someone near her appears to be sad, then she will not sleep until she makes them feel better and sees them smiling.
In 25-ji, Nightcord de.'s Sekai, the Empty SEKAI, she, like the rest of the Virtual Singers (except MEIKO), helps Mafuyu to regain her lost self. She feels like her duty in this Sekai is to 'break the status quo.' Due to this, she and MEIKO are at odds with each other.
In Vivid BAD SQUAD's SEKAI, the Street SEKAI, she, like the rest of the Virtual Singers, advises the group. She possesses a carefree and free-spirited quality like KAITO, though she's often taken more seriously by the others than he is. Due to wandering around SEKAI to wherever interests her at the moment, she's been able to take in new experiences which have been reflected in her singing.
For the Evillious Chronicles event, Luka plays a woman named Kayo. Kayo is an old, tired, yet loving mother whose son and husband have "such beautiful blonde hair". She works hard for the people she loves, and even the people she knows nothing of. For more information on Kayo and the official storyline for Evillious Chronicles, please read the Evillious Chronicles Wiki.
Appearance
Luka has blue eyes and long pink hair, worn loose with an iconic strand of pink hair falling to her shoulder. Her appearance is very similar to her V2 [VOCALOID2™] boxart design made by KEI, who also did the box art for the rest of the V2 Cryptonloids (the VOCALOIDS made by Crypton Future Media). She wears golden boots tied up with a black ribbon.
Like all the Virtual Singers, Luka wears a school uniform, hers consisting of a black godet skirt and white button-up shirt on which a black blazer with a white border is worn. The blazer is shortly sleeved with its end folded. A blue checkered pattern is seen on the lapel and the pleated cloth which is attached to a triangular white-and-black checkered pattern belt that loops around her skirt, near the hip. The cloth covers the back part of the skirt and is slightly longer than it. She also wears black tights and harness boots. There are gold buttons on the blazer and skirt.
She wears the same headphones as her original design. She wears a silver chain bracelet necklace. There is the same sliver lock on her necklace. She wears a black wrist hand band on her right and a silver chain bracelet on the left.
Being in an idol group, Luka has a similar costume with a few design changes and her theme colour being pink. She wears a short white dress which consists of a sweetheart top with six blue buttons on the front. Her skirt starts with two asymmetric tire, the top being white and the second being pink. It overlaps a regular tire skirt which has a different design at the bottom tires. Over this dress, she wears a single-button long sleeveless jacket with its ends ruffled. Near the waist at the back, it's split in the middle like the end of a ribbon. There is a white ribbon attached to her waist at the back. She also has white rectangular epaulette on either of her shoulders which has a silver button and pink ruffle border similar to the lapel. Long ruffles joined to the epaulettes and run along the back of the shoulder and act as a short sleeve.
Like all the members, she wears a white collar with a gold diamond. She has gold diamond and star pinned to her jacket which is connected by gold chains. She also has gold diamond earrings. On the right side of her hairbow, she has to gold diamond to which a black with yellow star pattern ribbon which is similar to the inside of the jacket. A white and black square checkered pattern ribbon is also attached to it. This pattern can also be seen on the lapel and one on the tire of her skirt. She has a white thigh band with '03' printed on it. She also wears white boots.
While in the child-like Sekai, Luka wears a bedding-like dress with many pastel layers, decorated with pom-poms and frills. The bottom layer is a pastel purple, bunched at the bottom with a pink pom-pom and decorated with star-shaped printing. The second layer is also a pastel purple, though less prominent, and bunched at the end with a yellow pom-pom. The first layer is pure white and leads to Luka's waist, tied with a purple waistband, then leading to a sleeveless, swim-like top held up by pom-pom straps. Frills of varying designs can be found beneath all of the sheet-like layers.
For accessories, she has a purple headband with yellow-and-orange ram horns, a frilly indigo neck piece, a loose bow tie, a pom-pom bracelet, thigh-high socks, a star-shaped belt, and frilly arm pieces also held on by pom-poms.
She wears a black sweetheart corset with gold buttons on the centre and is tied with black ribbons on either side of the waist. Underneath, she wears a sleeveless grey dress with black stains near the bottom. At the top, it has ruffles that cover the corset top. There is also a black net that is attached to the dress and makes a collar. Her skirt is torn in many areas thus making layers at different places. The layers are grey with black stain, ruffled purple and black. On top of it, a small black cloth attached to the corset covers the right part. She also wears black knee-long socks. On both her arms, she wears a short grey with slight dark stain arm cloth which is ruffled. It also has a ruffled border at the top.
Like all the vocaloids, a red string is tied on her right hand and the net of the dress. She wears a white hair bow with a grey ribbon tied on the left side under which a purple ruffle net is present. Her eyes are slightly dark.
(All information for the Evillious Chronicles event is from the game. For more information on the offical Evillious Chronicles storyline, please read the Evillious Chronicles Wiki.)
Kayo, the charater Luka plays, wears a red kimono with a floral design on the top and a green piece holding it together. Her blue eyes are soft and tired but still full of a motherly love. Her gold hairpiece shows a daisy with gold strands coming down the bottom. Kayo's hair is much thinner than Luka's.
While in the Street SEKAI, Luka wears a two piece crop-top, the undershirt being blue and the overshirt being black with the word "VIVID" printed on it in a flamingo pink. Over her shirt, she wears a cropped white jacket with a purple hood, purple straps attached to the jacket's cuffs and another purple strap holding the two openings of the jacket together. On her sleeve, there is a black strand with white text going across it; the jacket slightly falling off one of her shoulders. For pants, she has lavender short-shorts with a black belt. Like Miku, Luka has a pair of hoop earrings.
Etymology
Megurine (巡音): Meguri (巡) means "to go around; to circulate" and Ne (音) means "sound; noise".
Luka (ルカ): Shares the same pronunciation as 流 (pronounced as 'Ru', means "flow"), 歌 (pronounced as 'Ka', means "song; singing"), and 香 (pronounced as 'Ka', means "aroma; scent").
Altogether, this means "songs to all around the world as scent spreads."[1] This coincides with Luka's concept "traveling sound", meaning words that are translated between languauges.[2]
Relationships
Hatsune Miku: Friend and fellow Virtual Singer.
Kagamine Rin: Friend and fellow Virtual Singer.
Kagamine Len: Friend and fellow Virtual Singer.
MEIKO: Friend and fellow Virtual Singer. Luka especially likes sleeping on her lap in the Wonderland SEKAI.
KAITO: Friend and fellow Virtual Singer.
Songs
Luka is featured in or has an alternate vocal of the following songs:
Trivia
She has the same height as Mafuyu.
Luka is the second Virtual Singer to appear in a SEKAI other than her initial one post-launch, the first being MEIKO, followed by Rin.
Luka is the second Virtual Singer to debut in a new SEKAI via a Virtual Live rather than through an event, as mentioned above. As a nod to the randomness of her appearance, the members of the SEKAI dedicate a few minutes to discussing it. The first was Rin in Wonderlands x Showtime's Welcome Live.
Luka is currently the only Vocaloid with an offical English spelling to her first name.
References
External links