GTA: The Criminal Enterprises - The Loop
Play Sound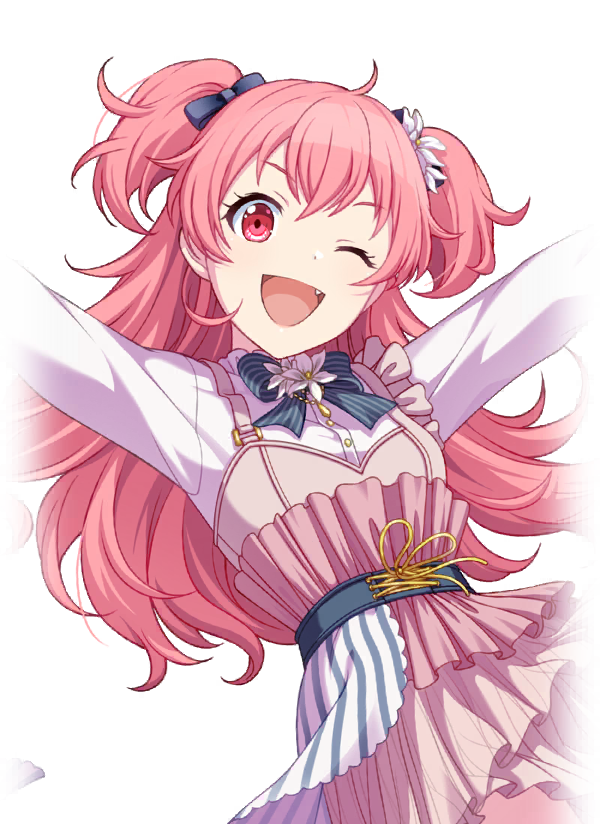 Momoi Airi
"Do you really think that you can become an idol just like that!?"
―Momoi Airi

Momoi Airi (桃井愛莉) is a second-year student at Miyamasuzaka Girls Academy. She is a member of the idol group MORE MORE JUMP![1]
Background
Airi used to be a TV personality, appearing on many variety shows. She's very confident to the point of coming off as pushy sometimes. Despite being very passionate and invested in her budding idol career, something happened that resulted in her quitting her talent agency.
—Profile
Airi used to be a member of the idol group QT. She was a popular idol that appeared on many variety shows. Due to her talent working in television, her agency urged her to stop being an idol and to become a TV personality instead. She rejected this offer, resulting in her quitting the group.
Airi seemingly gave up her dream of being an idol, even insulting Minori and saying she has no chance at becoming an idol, but was reinvigorated by her determination to reach her dream, thus agreeing to train Minori and join MORE MORE JUMP! with Haruka and Airi's former rival Shizuku.
Appearance
Airi has reddish-pink eyes and long, messy hot pink hair that falls below her shoulder blades, two clumps of hair tied into small loose buns. Her voice is loud, high-pitched and tomboyant.
Airi shares a similar outfit to that of the rest of her group members: a white sleeveless blouse with a black ribbon underneath a vest, a black and white ruffled skirt with multiple layers, a loose black belt adorned with the group's three-leaf clover motif, and white heeled shoes. The design of Airi's vest is similar to Shizuku's. Airi's outfit differs the most from her members, in the way that her blouse is cropped above the waist. Additionally, she has the color pink accenting her outfit, a white ruffled arm band on her upper left arm, and white bracelet-like sleeves.
For Airi's casual outfit, she wears a chunky light yellow turtleneck sweater and loose light yellow shorts held up with a belt of the same color. The twin-tails at the top of her head are held up by short yellow ribbons.
While she's practicing, Airi sports black sweatpants with a yellow hem, one leg rolled up to her knee. She has a honey yellow crop-top with a white sleeve that slightly intrudes into the yellow of the shirt. Under her shirt she has a white, also cropped undershirt, the left side having a black-and-white checker pattern. Her hair still has the same yellow ribbons.
When she was a part of QT, she had worn a short pink-and-plaid skirt that had pastel yellow-and-blue lining with lavender, as well as dark purple lining, with frills coming out the bottom, along with a pearl chain and a white belt. She had a dark purple crop top with a short, pink, sleeveless, blazer similar to her skirt, and a white bow tie. She had kept iconic the bows seen in her unit outfit, though they were lavender-and-white instead of pink-and-black.
Personality
Airi is strong-minded and comes across as pushy to some. According to Minori, she's strict but reliable. She is very protective of her friends and family, and hates bullies. She was more tomboyish as a child, though that was frequently shot down by her mother. To this day, Airi still manages to retain her headstrong attitude.
She would frequently dote on her past, bitter of how the industries she went to ended up trying to use her as a TV personality and disregard her idol activities completely. When she would do this, she'd become snappy and irrational to those who would confront her about her attitude, insulting them, only to feel guilty afterwards.
Etymology
Momoi (桃井): Momo (桃) means "peach" and I (井) means "a well". In the language of flowers, the peach flower means "I am your captive", "invincible", or "charming".[2] Momoi is also a place in Tokyo's Suginami Ward.
Airi (愛莉): Ai (愛) means "love" and Ri (莉) means "white jasmine". She is named after her mom's favorite actress.[3]
Game Interactions
A list of characters Airi interacts with in the game.
Relationships
Hanasato Minori: A fellow group member and friend. Airi is teaching her how to become an idol and admires her dedication and spirit.
Kiritani Haruka: A fellow group member and friend. Haruka thinks Airi is greatly undervalued in the idol world.
Hinomori Shizuku: A fellow group member and her close friend. The two were formerly rivals who became idols at the same time, and Airi was jealous of Shizuku's beauty and talent. After forming MORE MORE JUMP!, the two become closer and Airi often acts protective of her. In Shizuku's pre-upgraded cards, it is a running gag to see Airi trying to prevent, and usually failing, Shizuku from spilling something while Shizuku gets distracted by someone or something nearby. The two are also classmates.
Tenma Saki: Saki is a big fan of Airi and used to watch the variety programs Airi starred in while she was hospitalized. Airi is surprised after Saki meets at her school and asks for both an autograph and a handshake, before encouraging Saki to shake her hand as many times as she wants.
Shinonome Ena: Airi's childhood friend. They first started talking when Ena stood up for her in middle school, when people were making fun of her appearance in a variety show. Airi describes her as having an "eye for fashion", and Ena helped her to appear more fashionable before she became famous as an idol. Airi feels the need to repay Ena because she feels as if she didn't do anything to help her back in middle school. [4] Airi also admires Ena for her perseverance, seeing it as her best quality.
Shinonome Akito: Airi's friend. Like with Ena, they met in middle school, and she greeted him every once in a while when she visited Ena's house. She also went to Akito to find out what was going on between Ena and their dad, as she continuously pushed the subject away. They meet again in The Sounds of a Summer Festival!.
Songs
Airi is featured in the SEKAI version or has an alternate vocal of the following songs:
Introduction Video
Trivia
Airi and Kohane both have birthdays in March.
She has the same height as Len, Kohane, and Nene, at 156 cm and is also the shortest MORE MORE JUMP! member.
Airi's favorite food is wagashi.
Airi is very fond of cats, as seen as in the 10th 1koma and Meeoow~? side story.

She also just so happens to be allergic to cats.

She is the middle child of her family, having one older sister and one younger sister.
References