Project SEKAI COLORFUL STAGE! feat. Hatsune Miku (often shortened to 'Project SEKAI') is a rhythm game developed for iOS and Android. The game is a collaboration between SEGA, Craft Egg, Colorful Palette, and Crypton Future Media. The game was released on September 30, 2020 for iOS and Android devices.
The Taiwanese version of the game was released on September 30, 2021. The English version of the game was released on December 7, 2021, under the name "Hatsune Miku COLORFUL STAGE".
Game Release History
Japanese Version
On September 5, 2020, Project SEKAI COLORFUL STAGE! Rehearsal was released, showcasing the rhythm game itself, along with the Virtual Live room, where players can interact with one another. On the first day of release, it featured Hibana, Sweet Magic, and Tell Your World, each having all five levels of beatmap difficulty. The demo ended on September 11th, 2020, and has not been playable since then.
The game was released on September 30, 2020. Pre-registration was originally set to begin in late April, but it was delayed until further notice due to the COVID-19 pandemic, at the fifth Project Sekai livestream, it was announced pre-registration will start on July 22. For reaching various preregistration milestones, there would be rewards for everyone who downloaded the game from then on.
Taiwanese Version
The official site, Facebook and Instagram accounts were all announced on August 31, 2021. A beta version, also released on August 31, 2021, was held for a limited amount of Android users. The server ultimately closed a week after on September 7.
The game was released on September 30, 2021 with the game's version immediately on version 1.7. Available only in Taiwan, Hong Kong and Macau, there will be also releasing the game to Mainland China, South Korea and Southeast Asia regions in 2022.
English Version
The official site, Instagram, Facebook and Twitter accounts were all announced on August 31, 2021. An open beta test began on October 4, 2021 and ended on October 19 of the same year. The following week, the full release date was confirmed to be December 7, 2021.
Story
The game is set in Shibuya, Tokyo. A girl named Hoshino Ichika, walks through the streets and sees an LCD screen displaying Hatsune Miku.
Upon returning home, she discovers a song named "Untitled" on her smartphone. Out of curiosity, Ichika plays the song, only to get surrounded by a white light and arrives in an unknown place. Miku stands in front of Ichika, welcoming her to her Sekai, and inviting her to sing together.
Characters
Virtual Singers
The game features Crypton's Piapro characters: Hatsune Miku, Kagamine Rin, Kagamine Len, Megurine Luka, KAITO, and MEIKO. These characters take the form of VIRTUAL SINGER (formerly known as VOCALOID).
Groups
The game features 20 new characters that are split up into 5 groups: Leo/need, MORE MORE JUMP!, Vivid BAD SQUAD, Wonderlands x Showtime, and 25-ji, Nightcord de. Each of the groups has one or more Virtual Singer(s) advising them.
System
Real-world and Sekai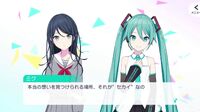 Players can switch between the real world and Sekai. You can travel between the two worlds using "Untitled" songs.
Conversations are voiced and are animated using Live2D.
New Rhythm Game System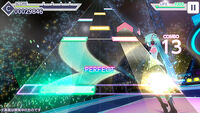 Players have to tap, slide and flick to match new free-form rhythm notes. Color Palette wanted to create a game everyone could play, regardless of skill.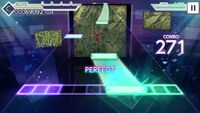 The game will feature multiple VOCALOID songs. Players can switch between the original versions and Project SEKAI versions. Virtual singers will perform the originals songs. The original characters joined by a virtual singer will sing Project SEKAI's versions.
Some songs have 3DPVs, but players can switch to a 2D background if they want. Not every song will have a 3DPV. This is because there's a huge variety of VOCALOID songs and not every song can be accompanied by dancers.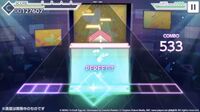 A list of currently announced songs can be found here. More songs will be added. There are plans to continually add more songs to the game. A song that wasn't originally sung by one of the Piapro characters may be added to the game as well. On February 25, 2020, a song contest was announced. The winning song will appear in the game, although only as 2DPV. Submissions are open until April 30, 2020. The results for the contest are revealed at the first Project SEKAI livestream.
The winner was Ichinose Lupo, with the song alive, sung by Rin.
They announced in September 2020 that a new song contest will be held.
Costumes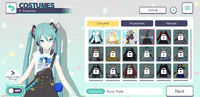 There are a variety of costumes that the characters will be able to wear. Some have color variations. One way to gain costumes is to buy them. Another method to get costumes is by "pulling" in the in-game gacha. Other methods of obtaining costumes are currently unknown.
In November 2019, a costume design contest was held. Two designs would be chosen; one for girls and one for boys. The winning designs will appear in the game. The winners were Koha22 (girls' design) and Ei-Flow (boys' design).
Costume design contests are now regularly held, usually every one or two months. These costumes can be purchased using paid crystals or directly with real life currency.
Gameplay
Project SEKAI includes two types of lives, and that includes #Solo Live and #Multi Live. You will need to use cards from any character in VIRTUAL SINGER, Leo/need, MORE MORE JUMP!, Vivid BAD SQUAD, Wonderlands x Showtime and 25-ji, Nightcord de..
Solo Live
In Solo Live, you get to choose any song you would like to play and choose the vocal for the song of your choice, whether if it's the VIRTUAL SINGER version, Sekai version or Another Vocal version. There are 3 notes available in game: flick notes, tap notes and hold notes.
Multi Live
In Multi Live, there are two rooms available: Free Live (anyone can join) and Veteran Live (only those who have BP over 150000 can join). For Veteran Live, you can get more shards than Free Live. You can also make your own private rooms to invite your friends to play with you. You can unlock the room to public if you don't want the room to be public. The gameplay is the same as Solo Live except all players in the game gets to choose a song and a song will be chosen on random. You can not replay or pause in anytime you want in Multi Live.
Live Boosts
Live Boosts are items that can boost your rewards, EXP and event points higher than with no boost. You can use up to 10 boosts per live.
Difficulties
There are 5 levels of difficulty:
Easy
Normal
Hard
Expert
Master (Locked)
To unlock the Master difficulty on a song, you need to beat the Expert difficulty with less than 7 GOOD Judgements.
Virtual Live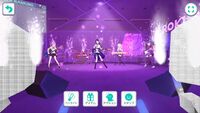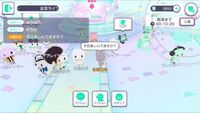 The Virtual live is a mode where you can attend a live concert, similar to Augmented Reality (AR) or a Vocaloid Concert
You can see players all around the world and your favorite group performing. Encourage them with your penlight and items. First, when the live hasn't started yet, you're in a waiting room with other players. You can talk with them by using the chat or sending emotes. You have also a shop where you can buy with your virtual coins accessories and set for your skin, penlights, and actions (move). You can use your penlight and your actions in the live only, and you have to put your skin in the room before going into the live.
When 10 minutes are left before the live starts, you can go to the live room and wait. The live will start at the hour displayed on the ticket in the virtual room menu. You can change the color of your penlights do actions with your penlights, and send items. You can do emotes here too. When the live has finished, you can leave and claim your rewards from attending the live.
Trivia
References
External Links