This is a list of characters that has a minor spot in various group stories or event stories.
Iori
Mio
Mai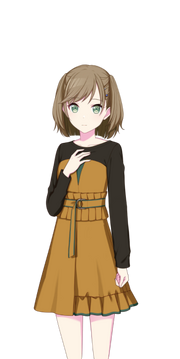 Mai (真衣) first appeared on Chapter 13 of MORE MORE JUMP's group story. She has a long, brown hair tied together by two pigtails and shorter hair the back. She has fair green eyes and wears a black long sleeved shirt accompanied by a brown dress.
Mai is Haruka's former idol group member when she was in ASRUN. She wanted to join ASRUN and become an idol like Haruka when she saw Haruka performing on stage and wanted to stand on the same stage as Haruka. However, after joining ASRUN for three years, Mai couldn't sing their songs perfectly, and she felt worried that she would hold everyone else back. At that time, Haruka kept practicing with her and encouraged her to do her best. Sadly, due to over practicing, Mai could not longer hit high notes nor become an idol anymore. In anger and sadness, Mai blamed Haruka for giving her false hope, thinking if she practiced more she could do it, but now she had lost everything. Haruka was heavily impacted by Mai's words and thought that she is not worthy to become a good idol. After that, she left the idol industry and refused to form a group with Minori, Airi and Shizuku before Mai apologized to Haruka.
Nanamin
Nanamin (ななみん) is a former idol who debuted at Let's Deliver! Hopeful Stage event, who is currently an online streamer with about 800 thousand subscribers. Her real name is Hayakawa Nanami. She helps the girls by including them in her streaming and reveal the group's first appearance to the world
Shiraishi Ken/An's Father
Mita Koutaro
Aoyagi Harumichi/Touya's Father
Kohane's Father
Akito's Father
Tono Arata
Rabbit Kigurumi
A rabbit suit of Kigurumi is the cast of Phoenix Wonderland who is taking care of Emu. He's always seen wearing an animal-themed costume.
Seiryuin Sakurako
A member of Phoenix Stage who sings well and proudly. She's a self-centered diva who told Nene that she doesn't match to her level in the Wonderlands X Showtime Christmas event. She ends up changing in the end admitting Nene was a match for her. she was a child once who loved the theme park and the Rainbow Stage. She agrees to join together and do a show together with the group. She grows a love for Nene and admires her voice.
Ootori Kounosuke
Ootori Keisuke
Ootori Shousuke
Ootori Hinata
Jean Riley