List of characters that are not part of the main six units but appear throughout backstories and events.
Iori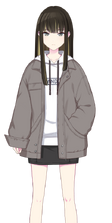 Iori (イオリ) is the leader and vocalist of the professional band STANDOUT. She has grey eyes and dark brown hair with the under-layer dyed blonde. She wears a white hoodie with STANDOUT written in simple print, a short black skirt, and a slightly-oversized grey jacket. She is 19 years old and voiced by Natsue Sasamoto.
While her debut was in the Don't Let Doubts Hold You Back event story, she only appeared at the very end, serving to tease the Musical Twilight Parade event story. Hinomori Shiho runs into Iori at the live house the former works at. Iori recognizes Shiho, saying she frequents the live house and has seen her perform as a replacement bassist. She then asks Shiho to join her band as their bass player, confirming a rumor that STANDOUT was looking to replace their current bass player.
As teased, Iori makes a return at the beginning of the Musical Twilight Parade event story, asking Shiho once again to join her band. Shiho reveals that, after Iori's previous appearance, Shiho refused the offer, as she states that her answer hasn't changed.
Mio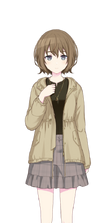 Mio (ミオ) is the bassist of the professional band named STANDOUT. She first debuted at the Resonating With You event story. She is 19 years old and voiced by Rio Tsuchiya.
Takagi Miu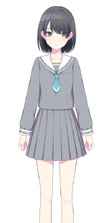 Miu (未羽) is a former band member and middle school friend of Shiho's. Miu was inspired to start playing guitar because of Shiho. She first debuted in the That Day, the Sky Was Far Away event story.
Gallery
Yoshizaki Hanano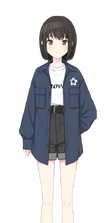 Hanano (花乃) first debuted in the Live with memories event story.
Gallery
Yoshizaki Youta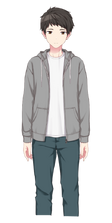 Youta (葉太) First debuted in the Live with memories event story.
Mai
Mai (真衣) first appeared on Chapter 13 of MORE MORE JUMP!'s group story. She has short brown hair half tied up in two pigtails and half down. She has fair green eyes and wears a black long sleeved shirt accompanied by a brown dress. She is 15 years old and voiced by Misaki Kano.
Mai is Kiritani Haruka's former idol group member when she was part of ASRUN. Mai wanted to join ASRUN and become an idol like Haruka when she saw Haruka performing on stage, to the point of wanting to perform with the idol herself. However, after joining ASRUN for three years, Mai fell into a slump, feeling out-of-touch with both the dance routines and music. At the time, Haruka encouraged her to keep practicing, believing that, if she just kept practicing, she would get better. Due to overwork, Mai damaged her vocal cords, and would have to stop singing in the hopes that they would heal. In anger and sadness, Mai blamed Haruka for giving her false hope, making her think that, if she practiced more, she could get out of her slump, but now she has lost everything. Haruka was heavily impacted by Mai's words and thought that she was not worthy to be an idol. After that, Haruka left the idol industry and refused to form a group with Hanasato Minori, Momoi Airi, and Hinomori Shizuku before Mai apologized to her.
Nanamin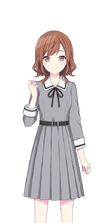 Nanamin (ななみん) is a former idol who debuted in the Hear Me! Hopeful Show♪ event story. She is currently an online streamer with about 800 thousand subscribers. Her real name is Hayakawa Nanami (早川ななみ). She plays an important role in the MORE MORE JUMP! story, where she promoted the group via streaming. She is 17 years old and voiced by Arisa Nakada.
Uchiyama Yuina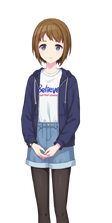 Uchiyama Yuina (内山唯奈) is a fan of Hanasato Minori who debuted in the Hear Me! Hopeful Show♪. She is referred to only as "Minori's fan" (みのりのファン) until her name is revealed in the MORE MORE Making Xmas event story.
Saito
Saito (斎藤) is a fan of Hinomori Shizuku who debuted in the MORE MORE Making Xmas event story.
Samo-chan
Samo-chan is Minori's Samoyed dog that is mentioned in side stories and a few events. She has yet to appear in-game, though she makes an appearance and is a main feature of episode eight of Petit Sekai. In this episode, Samo-chan runs the MORE MORE JUMP! channel.
Gallery
Shiraishi Ken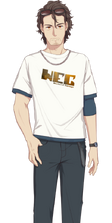 Shiraishi Ken (白石謙) is Shiraishi An's father and is a former musician who held the legendary live "RAD WEEKEND". He was the one who inspired both An and Shinonome Akito to become street musicians. He is currently running a live cafe & bar called "WEEKEND GARAGE". His wife is a school teacher who seems to be bad at cooking. He is 43 years old and voiced by Hiroshi Nakamura.
Gallery
Mita Koutaro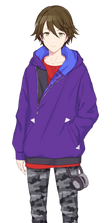 Mita Koutaro (三田洸太郎) is a street musician and an acquaintance of BAD DOGS. He respects Ken, but thinks that his daughter Shiraishi An doesn't have talent and is just using her father's popularity. In the Vivid BAD SQUAD main story, he sabotaged Vivids' first live performance and created an "opportunity" for Vivids and BAD DOGS to confront each other. He was referred to only as "Musician" in the group's main story until his name was revealed in the STRAY BAD DOG event story. He is 17 years old.
Aoyagi Harumichi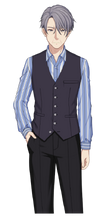 Aoyagi Harumichi (青柳春道) is Aoyagi Toya's estranged father. He is only referred to as "Toya's Father" in-game. He is a famous classical musician and has been teaching Toya and his two older brothers how to play music since childhood, hoping that they would become professional musicians later in life. He disapproves of Toya's decision to become a street musician. He is 53 years old and voiced by Ken'ichi Ono.
Kohane's father
Father of Azusawa Kohane. He debuted in the Nocturne Interlude event with no model or voice.
Tono Arata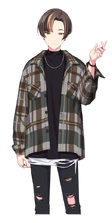 Arata (新) is a street performer who first debuted in the STRAY BAD DOG event. Just like Vivid BAD SQUAD, he and his partner plan to surpass RAD WEEKEND. After his partner got into an accident, he's been working towards this goal and performing alone. He is 19 years old and voiced by Kōhei Yanagi.
Nagi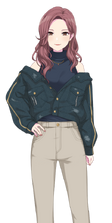 Nagi (凪) is a woman who performed at the legendary event RAD WEEKEND. She debuted in the Legend still vivid event story.
Partner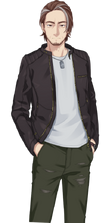 Rabbit Kigurumi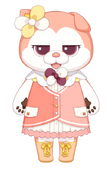 A rabbit suit of Kigurumi, a mascot of Phoenix Wonderland. One is often seen watching over Otori Emu, and is never seen out of costume. He is very cold and professional, but will act aggressively if he believes Emu is in danger. Kamishiro Rui believes this is Emu's bodyguard in disguise. He is voiced by Naoyuki Shimozuru.
Gallery
Bunny Plushie
A small worn bunny plush with visible stuffing peeking out. She is tied to 3 heart-shaped balloons and floats in the air.
She's one of the many plushies that live and perform in the Wonderland SEKAI. Her appearance in that SEKAI is based on an old plushie once owned by Tenma Saki, which Tenma Tsukasa used to act out plays for his sister with when they were younger. Tsukasa had forgotten about the plushie over time, which hurt the plushie's feelings, but he remembered her later on in the Wonderlands x Showtime Unit Story. She and Azusawa Kohane share a voice actress.
Gallery
NeneRobo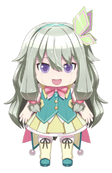 NeneRobo (Sometimes Robo-Nene) is a robot that was made by Kamishiro Rui for Kusanagi Nene to conquer her fear of talking to people as a child. Even now, Nene uses it for performances at the Phoenix Wonderland and to initially meet Tenma Tsukasa and Otori Emu.
NeneRobo appears throughout the group's stories for various reasons.
NeneRobo Gallery
Seiryuin Sakurako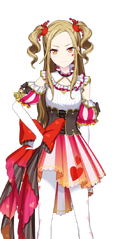 Sakurako (櫻子) is a performer at Phoenix Wonderland and member of the Phoenix Stage. She makes her debut in the On This Holy Night, I Sing event story. Sakurako is an excellent singer and the star of her stage, leading her to be a haughty, self-centered diva. She is referred to as "diva" in the game's files. She is 17 years old.
In the On This Holy Night, I Sing event story, she tells the cast of Wonderlands x Showtime that, while admittedly skilled in their craft, they stand no chance against the Phoenix Stage in the park's performance competition. She ends up getting on Kusanagi Nene's nerves - moreso than the rest of the group - but Sakurako's sheer performance skill makes Nene feel inferior, and she struggles to stand up to her. While Nene struggles with feelings of inferiority and fear of failure, Sakurako remains antagonistic. Seeing Nene in distress, she outright tells Nene to quit before she disgraces the park with a bad performance. However, after seeing their resulting performance, Sakurako finds herself moved to tears by Nene's singing, and declares to Nene that she's a worthy competitor before running off.
Gallery
Otori Kounosuke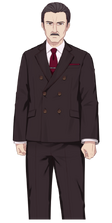 Otori Kounosuke (鳳幸之介) is one of the owners of Phoenix Wonderland and Otori Emu's father. He debuted in the Smile of a Dreamer event story. He is voiced by Masaki Aizawa.
Otori Keisuke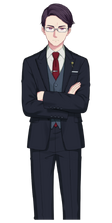 Otori Keisuke (鳳慶介) is one of the owners of Phoenix Wonderland and Otori Emu's older brother. He debuted in the Smile of a Dreamer event story. He currently works as a theme park manager alongside Shousuke. He is voiced by Hikaru Hanada.
Otori Shousuke
Otori Shousuke (鳳晶介) is one of the owners of Phoenix Wonderland and Otori Emu's older brother. He debuted in the Smile of a Dreamer event story. He currently works as a theme park manager alongside Keisuke. He is voiced by Atsushi Imaruoka.
Gallery
Otori Hinata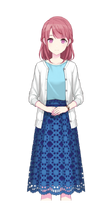 Otori Hinata (鳳ひなた) is Otori Emu's older sister and debuted in the Smile of a Dreamer event story. She is 20 years old and currently attending college. She is voiced by Satomi Moriya.
Gallery
Jean Riley
Jean Riley is the CEO of Riley Entertainment, a large company that manages a world-famous character content IP. He was interested in making a business partnership with Phoenix Wonderland to to help make the theme park more popular, but decided not to after seeing Wonderlands x Showtime's show. He is 54 years old.
Gallery
Kazamatsuri Yuuka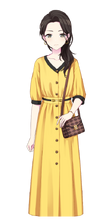 Yuuka (夕夏) first debuted in the Mesmerized by Mermaids event story.
Kanade's Father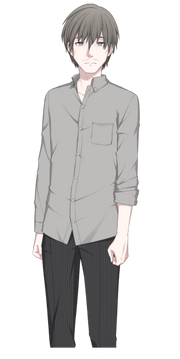 Father of Yoisaki Kanade, he appeared first in the 25-ji, Nightcord de. main story. He was an independent musician who also composed music on commission. He is what initially inspired Kanade to compose music.
When Kanade was in junior high, her father entered a music competition. Despite his best efforts, he struggled to find satisfaction with his piece. Kanade, seeing this frustration, came up with a section he had no ideas for, bringing the whole piece together, to her father's surprise and awe. This song eventually won the competition. However, it was only Kanade's section that earned the attention of the judges. This bothered him, and this feeling only grew as commissioners in the following months only asked for pieces that sounded like Kanade's section, rather than his own work.
One night, Kanade came into his room, having wrote a song for him. Upon playing it, her father was shaken, realizing in that moment that his music isn't what modern people need, and that he could never touch the hearts of others with his songs. He then tells Kanade to keep creating music, since her music will undoubtedly help people. The next day, Kanade found her father collapsed in his room and unresponsive. At the hospital, the doctors said he collapsed from fatigue, and that he should be able to recover. However, he also suffered from severe burnout, making it difficult for him to remember things properly, without a clear time when he would recover from this psychological damage.
Currently, he is still in care at the hospital, slowly recovering from his memory problems. Kanade visits him weekly.
Mafuyu's Parents
Parents of Asahina Mafuyu. While currently unvoiced and unmodeled, both her mother and father have made multiple story appearances, mainly her mother. Both were first featured in the 25-ji, Nightcord de. main story.
Gallery
Akito and Ena's Father
Father of Shinonome Ena and Shinonome Akito. He is a professional artist, and was Ena's inspiration to take up art. While he made an appearance in the 25-ji, Nightcord de. main story, he had no model and was unvoiced. His true debut was in the Insatiable Pale Color event story.
When Ena was in junior high, she had told her father about her desire to become an artist after coming home from school one day. He responded coldly, saying that Ena didn't have the talent to become an artist, and would never gain recognition for her work. Ena, feeling betrayed, declared to him that she would become a great artist even without his support, and ran off. Ever since, their relationship has been strained.
In the Insatiable Pale Color event story, Ena finds a flyer her father left at home for an art contest. Unsure of whether to participate, she makes up her mind to enter when her father says she stands no chance of winning. Some days later, when Ena receives a rejection letter from the contest judges, her father tries to speak with her after she's read the letter itself. He tells Ena that, if she's going to be an artist, she will feel the sting of failure again and again, and that she will have to work harder than she can imagine if she wishes to be on par with the talented. Ena doesn't take that well, but her father leaves before she can respond. That night, after Ena has a meltdown and runs off to the Empty SEKAI, Akito confronts their father over what he (must have) said.
In truth, their father is trying to look out for Ena. As a professional artist, he believes the art world to be cruel and unforgiving, even on a small scale. As he sees it, any potential artist will have to continue struggling and creating without an end in sight before they find recognition. He's worried Ena won't be able to handle that pain, and wishes to warn her before she's too committed to turn back. However, as Akito points out, he's unaware of what Ena wants, as simple as it may be: Ena just wants her dad's support. The next day, as their father enters Ena's room and compliments her latest work (though not without critique), he makes it clear that he's taken Akito's words to heart.
Kanade's Mother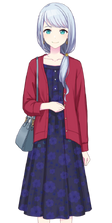 Mother of Yoisaki Kanade and currently deceased. She debuted in a flashback during the Carnation Recollection event story.
Yukihira
Natsuno Futaba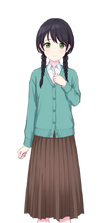 Natsuno Futaba is an art student and former peer of Shinonome Ena. She debuted in the On This Blank Canvas, I Paint event story.