GTA: The Criminal Enterprises - The Loop
Play Sound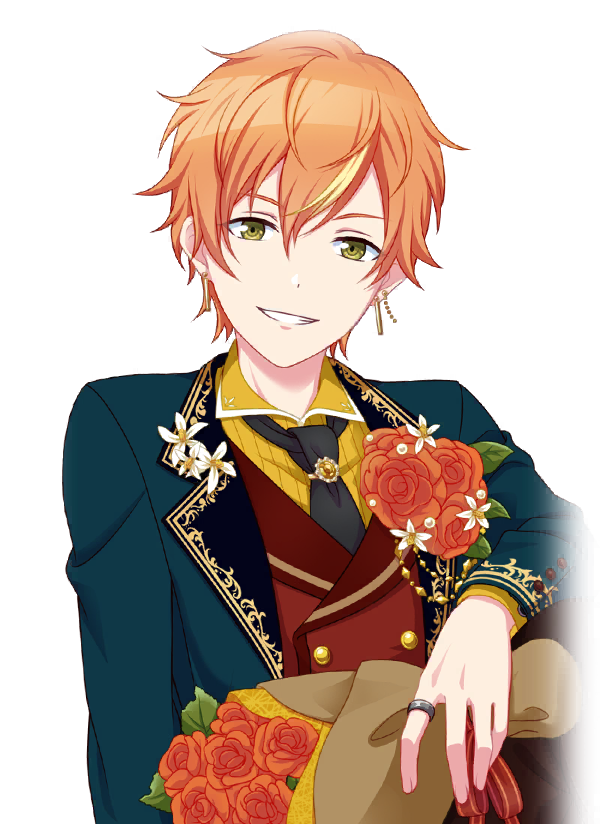 Shinonome Akito
"This world isn't one where you can treat life as one big picnic."
―Shinonome Akito

Shinonome Akito (東雲彰人) is a first-year student at Kamiyama High School. He is a member of the street music group Vivid BAD SQUAD.
Background
Akito was inspired to get into music by An's dad. He sings with his partner Toya at the BAD DOGS clubhouse. He seems like a gentle-mannered boy, but there's also another side to his personality.
—Profile

When Akito was in elementary school, he played for an unnamed soccer team, until he decided to quit after he and his team lost an important tournament.[1] A few months after he quit playing soccer, he was dragged by his older sister, Ena (who was in middle school during the time), to a Summer festival. After viewing the festival's concert, Ena gave her little brother a small speech, saying that he shouldn't give up on things without even bothering to try them. This speech would later keep his dream of becoming a famous musician alive. This dream had truly started after seeing an event held by famous street band, RAD WEEKEND. He now looks up to An's father, Ken — who performed as a member of RAD WEEKEND — and trains daily in hopes of surpassing him and his band.
He previously sang together with Toya under the name BAD DOGS before joining Vivids — the name of An and Kohane's former street duet — to form Vivid BAD SQUAD.
His father is shown to be emotionally neglectful to both him and his older sister. Their mother is rarely mentioned in-game.
Appearance
Akito has olive-colored eyes and messy orange hair with a yellow streak and fair skin. He has a deep and calm voice.
He wears a pale yellow hoodie underneath a black, and inside, bright yellow jacket. He wears black training pants, with two white stripes on the sides, alongside a red checkered jacket tied onto his waist. He has black and white shoes on, with blue undertones and yellow shoelaces.
At school, he wears the standard male uniform for Kamiyama High School — blue pants with a white collared undershirt (his being yellow-based), a red-and-blue striped tie and a navy blue blazer. His blazer is left open and beneath is a grey jacket.
For the Kamiyama School Festival, he has no jacket or blazer and is wearing a black shirt with a poorly spray-painted skeleton torso and neon pink splotches. In the An Ode for the Pure of Heart event story, he wears formal attire — a plaid vest with a pair of matching pants, a pale yellow undershirt and a beige tie.
Personality
Akito appears to be an easygoing guy at first. However, his personality drastically changes when music is involved, becoming hot-blooded and passionate to the point where people find him scary.[2] He respects anyone who is passionate about their interest and hates half-hearted people. Though he is seen being rude to or playing pranks on some characters, and is often misunderstood for his blunt demeanor, he is a dependable and caring person.
When Akito meets someone new, he puts on a charming persona, which Toya calls his "nice-guy persona" and seems to dislike.[3]
Etymology
Shinonome (東雲) means "dawn". It also refers to his image color.[4]
Akito (彰人): Aki (彰) means "clear, obvious", and To (人) means "person, human".
Game Interactions
A list of characters Akito interacts with in the game.
Relationships
Azusawa Kohane: Fellow group member. Akito saw her as a complete newbie who had no idea what she was getting into, but he changed his mind after seeing her and An's performance later on. In many area conversations, Akito tells Kohane to keep her head up. He enjoys teasing Kohane every now and then, but stops whenever An tells him off.
Shiraishi An: Fellow group member whom he's known since middle school. The two are rivals and often clash with each other, making people around them become uncomfortable until someone breaks their fight off. Their rivalry drives one another to do their best in every performance. Despite this, they are shown to be great at working together in order to surpass RAD WEEKEND.
Aoyagi Toya: Fellow group member and partner. Akito trusts Toya completely and is aware about his negative relationship with his father. They are very close and often rely on each other while performing.
Shinonome Ena: Akito's older sister. Initially it is shown that Ena rarely pays attention to him, as she is always focused on chatting with her online friends. However, Akito is always there for her and often talks about her to other people. [citation needed] Due to Ena attending school at night, they rarely see each other during the day. Ena tends to use him as her errand boy, much to his annoyance; despite this, they seem to care for one another. It was later revealed Ena is responsible for showing Akito to RAD WEEKEND, leading Akito choose becoming musician rather than a painter. [citation needed]
Tenma Tsukasa: An upperclassman Akito dislikes. Akito considers him (along with Rui) a weirdo, and seems to enjoy teasing him.[5] After learning more about his and Toya's relationship, Akito mentions that he owes Tsukasa his thanks for allowing Akito and Toya to meet, but still dislikes him. Akito also appears to be wary of the influence Tsukasa and Rui will have on Toya, and at times will act protective of Toya when they're around because of this. Although, it is hinted that he is very jealous toward Tsukasa because he is very close with Toya. [citation needed]
Akiyama Mizuki: A friend of his sister's. Mizuki calls him "little brother-kun"/"lil' bro" or "lil' brosef"[6][7], much to his chagrin. They met during the Kamiyama School Festival. Mizuki recognized his voice from the background of of Ena's calls.
Kagamine Rin: She and Len see him as an older brother. Akito treats Rin like an annoying younger sibling who he is at times lenient toward, usually to get her out of his hair. When asked by Rin who between Miku and MEIKO is most reminiscent of Ena, he says Rin does, because unlike Miku and MEIKO, she's selfish. [citation needed]
Kagamine Len: Akito appears to be the unit member Len is most attached to in Street SEKAI and views Akito as a paragon of coolness. Len is frequently seen seeking Akito's approval. Similarly, to his treatment of Rin, Akito views Len like an annoying younger sibling, though the treatment differs a bit in that he's gentler with Len and he doesn't complain as much when Len wants to practice with him. Their Kizuna Rank title "Good Friends Like Brothers" confirms that they have a sibling-like bond.
Songs
Akito is featured in the SEKAI version or has an alternate vocal of the following songs:
| Song Name | Producer | Date Added (JP) | Date Added (EN) |
| --- | --- | --- | --- |
| Ready Steady | Giga, q*Left | 2020/09/30 | 2021/12/07 |
| Forward | R Sound Design | 2020/12/08 | 2022/01/08 |
| RAD DOGS | HachiojiP, q*Left | 2021/01/31 | 2022/03/06 |
| Cinema | Ayase | 2021/05/08 | 2022/05/24 |
| Beat Eater | Police Piccadilly | 2021/07/09 | 2022/07/12 |
| Mirai | Yuukisan | 2021/12/29 | TBA |
| Flyer! | Chinozo | 2022/02/16 | TBA |
| Salamander | DECO*27, Rockwell | 2022/05/05 | TBA |
| Gekkou | Kitani Tatsuya | 2022/05/20 | TBA |
| Awake Now | Yunosuke, Gyuuniku | 2022/05/31 | TBA |
| Machi | jon-YAKITORY | 2022/07/19 | TBA |
Introduction Video
Trivia
According to Akito himself, he started being afraid of dogs after he was bit by one [8]
Akito's favorite foods are pancakes and cheesecake, the same as his sister.[9]
He hates carrots, even going as far to exchange the carrots in his food for the squid in Toya's food.
Akito is the only character who has dyed hair.

Despite popular misconception, Akito's hair is naturally orange, and the yellow streak is the only part that is dyed.
References