GTA: The Criminal Enterprises - The Loop
Play Sound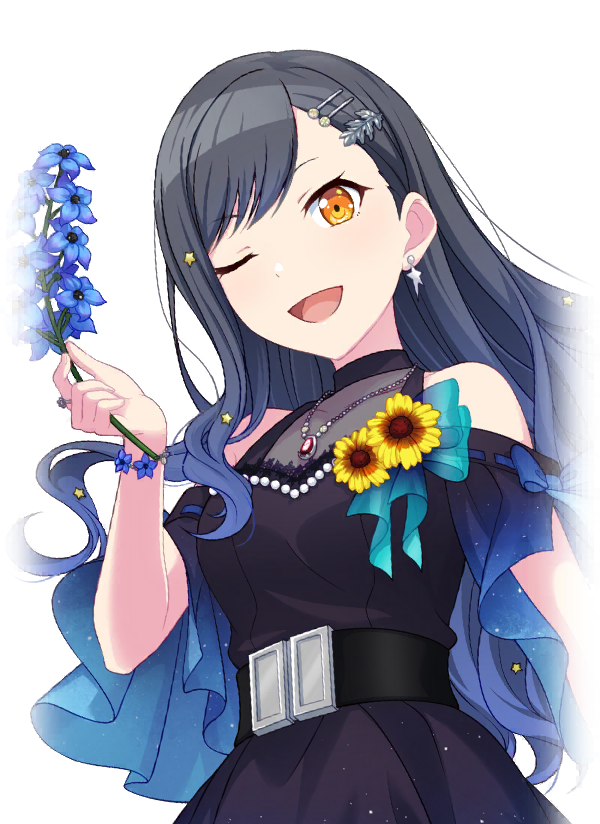 Shiraishi An
"I know we have what it takes to put on the best show ever!"
―Shiraishi An

Shiraishi An (白石杏) is a first-year student at Kamiyama High School. She is part of the street music group Vivid BAD SQUAD.
Background
The easy-going yet spirited daughter of a retired musician who had quite a reputation on the streets of Shibuya. An's goal is to put on a show that surpasses her dad's RAD WEEKEND gig.
—Profile
An is the daughter of popular former musician Shiraishi Ken, who now owns a popular live cafe & bar called WEEKEND GARAGE, where she works. An hopes to one day surpass the legendary event he put on, called RAD WEEKEND. When Kohane visited WEEKEND GARAGE after hearing An sing, An invited Kohane to form a group with her, calling themselves the Vivids. After being long-time rivals, they join Akito and Toya of BAD DOGS to become Vivid BAD SQUAD.
She is also classmates with Akiyama Mizuki in class 1-A.
Appearance
An has amber eyes and long black hair with blue tips, worn loose with little stars stuck inside.
An's outfit consists of a black shirt tucked into her white shorts with neon green accents, two black straps on each side hooked to the front and back of her shorts, and a blue-green and white oversized jacket which has the word "HEADS" printed on its left sleeve and neon green accented strings. She also wears a pair of chunky neon green headphones around her neck and white sneakers. She has many star shaped barrettes scattered in her expressive hair.
Personality
An is a cool and candid girl with an unyielding spirit. She acts very bubbly towards her close friends and is very kind and forgiving. She is very impressionable and hard to forget about. An encourages those around her to be the best they can. However, she can still sometimes act very aggressive towards Akito, as they used to be rivals in middle school. However, the two have come to greatly respect each other's skill and ambition.
While An is part of the disciplinary committee at Kamiyama, she gets nervous when asking someone to follow the rules, getting shaky and stuttering when asking someone to tuck in their shirt.
Etymology
Shiraishi (白石) means "white stone".
An (杏) means "apricot".
Game Interactions
A list of characters An interacts with in the game.
Relationships
Azusawa Kohane: Fellow group member and close friend. They consider each other partners, and while An tends to be overprotective towards Kohane, she is learning to rely on her more equally. An gave Kohane confidence to perform.
Despite this, An is also shown to be jealous toward Kohane. In Bout for Beside You, she becomes afraid that Kohane would one day leave her behind after her rapid improvement during Awakening Beat, and also jealous of her vocal skill. She is trying to keep up with Kohane. She later confesses her jealous feeling toward Kohane, how she didn't want Kohane to leave her. However, much to her surprise, Kohane was actually improved greatly due to her groupmates. Kohane realizes An was lonely without her and decided to support her in future.
Shinonome Akito: Fellow group member and friends from middle school. They're rivals and often bicker over who's better. Their rivalry drives them to do their absolute best in each performance. Despite this, they have great teamwork for surpassing RAD WEEKEND's popularity and they respect each other greatly.
Aoyagi Toya: Fellow group member. An recognizes his skill.
Kiritani Haruka: Close childhood friends since elementary school, however the two were separated when Haruka went to Miyamasuzaka and An to Kamiyama High. They still hang out together outside of school.
Akiyama Mizuki: Good friends and classmates from 1-A, it is shown that An is one of the few people who treats Mizuki like a normal person. An invites them to the school festival with the reassurance that they won't stand out too much with everyone in costume. They especially enjoy talking about fashion together, and Mizuki also likes to scare An with ghost stories.
Hinomori Shizuku: Despite meeting for the first time in the wedding photoshoot, An alredy knew about Shizuku since she used to be part of the idol group Cheerfuls*Days, while Shizuku knew about An from Haruka. Shizuku later helped An's modeling for photoshoot. Since then, they became good friends and Shizuku enjoys teasing An about Akito, much to her embarassment.
Songs
An is featured in the SEKAI version or has an alternate vocal of the following songs:
| Song Name | Producer | Date Added (JP) | Date Added (EN) |
| --- | --- | --- | --- |
| Ready Steady | Giga, q*Left | 2020/09/30 | 2021/12/07 |
| Forward | R Sound Design | 2020/12/08 | 2022/01/08 |
| RAD DOGS | HachiojiP, q*Left | 2021/01/31 | 2022/03/06 |
| Cinema | Ayase | 2021/05/08 | 2022/05/24 |
| Beat Eater | Police Piccadilly | 2021/07/09 | 2022/07/12 |
| Mirai | Yuukisan | 2021/12/29 | TBA |
| Flyer! | Chinozo | 2022/02/16 | TBA |
| Gekkou | Kitani Tatsuya | 2022/05/20 | TBA |
| Awake Now | Yunosuke, Gyuuniku | 2022/05/31 | TBA |
| Machi | jon-YAKITORY | 2022/07/19 | TBA |
Introduction Video
Trivia
An's favorite food is rum raisin ice cream.
She is absolutely terrible at math and studying in general.[1]
An, Akito, Saki, Rui, Tsukasa, and Toya are the only characters who have two-toned hair.
She is 1.6 meters (around 5 foot and 3 inches) tall.
As a hobby, An grows mint.
References