GTA: The Criminal Enterprises - The Loop
Play Sound

"A talented group of street artists who teamed up to surpass a legend."
―Profile
Vivid BAD SQUAD, often abbreviated to VBS, is a unit of street musicians formed together with the goal of surpassing the legendary event RAD WEEKEND.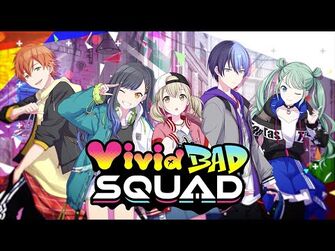 Background
Three young talented musicians from different backgrounds and a meek girl. Their ultimate goal is to surpass the "Legend". Watch them as they rise to the top of the concrete jungle!
—Colorful Stage Site

Azusawa Kohane gets lost while purchasing a CD for her mom, stumbling upon Shiraishi An and her fellow musicians performing inside Weekend Garage's backstage area. Though captivated by their singing, she runs away when confronted by An out of shyness. Coming back a week later, An still remembers Kohane and performs for her, also inviting the girl to sing. An realizes the potential Kohane has when singing, inviting her to form a band in her dream to surpass a legendary event dubbed RAD WEEKEND. She agrees, thus forming their duo group, Vivids. They also happen to meet BAD DOGS, Shinonome Akito and Aoyagi Toya, on the same day.
Akito invites the girls to attend an event, both girls accepting the offer. While forming a set list of songs in a playlist, Kohane discovers a song without a title, "Untitled." Upon attempting to download the song, An and Kohane get transported to SEKAI. The girls are greeted by Hatsune Miku, then MEIKO, who came to investigate the area. While resting in the Crase Cafe and being explained of their situation, Kagamine Len bursts into the conversation complaining about Kagamine Rin. In the middle of introductions, An realizes that she left Weekend Garage unattended, forcing an end to their time together. Kohane and An give their thanks for the singers' time, and leave.
SEKAI
The Street SEKAI is a multiple-alleyway area with walls of graffiti and posters, some being RAD WEEKEND posters. In an area conversation[1], there are multiple secret alleys to enter and exit from. One of the streets is known to have good acoustics, which Hatsune Miku frequently sings at. Going down into the alleyway leads to a cafe MEIKO operates, named Crase Cafe.
Crase Cafe is located at the end of what seems to be three to four alleyways- one of which being where the members join the world. Outside of the cafe, there are two wooden round tables with red chairs set up. Inside, there is a corner island with several red stool bar chairs. There are two rows of cabinets, the lower row being completely visible with different cups, jars, and bottles. There is a pale grey couch at the back of the cafe with two pillows on one side, one a pale blue and pastel orange[2] with a chalkboard with the menu hanging above it, a bookshelf with presumably cookbooks just across. There are four tables inside with multiple different styled chairs. The main light sources are the windows, though there are overhead lamps and lightbulbs.
Oddly enough, the cafe has two different types of doors. In the game's SEKAI world, the cafe uses sliding collapsible glass doors, it being open and free to walk in anytime. In the stories, the door changes to a French full glass panel door with long or paneled windows, the characters having to open the door to enter. The reason why the doors are designed like this are unknown, however it could be due to make the story seem more realistic with pull doors instead of it being wide open. Also, the sliding doors allow players to see the inside of Crase Cafe in the game.
You can decorate the SEKAI with a cafe signboard reading "Weekend Garage," an old DJing set, Ken's CDs, a pair of microphones, a cafe handbell, Len's headphones, a coffee grinder, RAD WEEKEND flyers, Vivid Street graffiti, and music speakers.
Area Items
| Image | Kanji | English | Level Effect (Max) | Character/Unit | Charm Type |
| --- | --- | --- | --- | --- | --- |
| | カフェの看板 | Cafe Signboard | 30% Boost on all stats | Azusawa Kohane | |
| | 古びたDJセット | Old DJing Set | 30% Boost on all stats | Shiraishi An | |
| | 謙さんのCD | Ken's CDs | 30% Boost on all stats | Shinonome Akito | |
| | 2本のマイク | Pair of Mics | 30% Boost on all stats | Aoyagi Toya | |
| | カフェのハンドベル | Cafe Handbell | 6% Boost on all stats | Hatsune Miku | |
| | レンのヘッドフォン | Len's Headphones | 30% Boost on all stats | Kagamine Len | |
| | コーヒーミル | Coffee Grinder | 30% Boost on all stats | MEIKO | |
| | 『RAD WEEKEND』のフライヤー | RAD WEEKEND Flyer | 7.5% Boost on all stats | Vivid BAD SQUAD | |
| | グラフィティ | Graffiti | 7.5% Boost on all stats | Vivid BAD SQUAD | |
| | ミュージックスピーカー | Music Speakers | 1.5% Boost on all stats | VIRTUAL SINGER | |
Members
Members
Virtual Singers
Songs
| Song Name | Producer | Date Added (JP) | Date Added (EN) |
| --- | --- | --- | --- |
| Ready Steady | Giga, q*Left | 2020/09/30 | 2021/12/07 |
| Forward | R Sound Design | 2020/12/08 | 2022/01/08 |
| RAD DOGS | HachiojiP, q*Left | 2021/01/31 | 2022/03/06 |
| Cinema | Ayase | 2021/05/08 | 2022/05/24 |
| Beat Eater | Police Piccadilly | 2021/07/09 | 2022/07/12 |
| Mirai | Yuukisan | 2021/12/29 | TBA |
| Flyer! | Chinozo | 2022/02/16 | TBA |
| Gekkou | Kitani Tatsuya | 2022/05/20 | TBA |
| Awake Now | Yunosuke, Gyuuniku | 2022/05/31 | TBA |
| Machi | jon-YAKITORY | 2022/07/19 | TBA |
Trivia
Vivid BAD SQUAD is the only unit to start with three VIRTUAL SINGERS in their SEKAI aside from Miku, as Street SEKAI had MEIKO, Rin and Len at launch.
Vivid BAD SQUAD is the second to get an extra Virtual Singer, the first being Wonderlands x Showtime , doing so with the game's launch.
Vivid BAD SQUAD is the fourth unit to have all six VIRTUAL SINGERs in its SEKAI, after MORE MORE JUMP!
While An, Toya, and Akito attend Kamiyama High School, Kohane attends Miyamasuzaka Girls Academy.
Vivid BAD SQUAD is the only unit to have their casual outfit as their unit outfits.
Both MORE MORE JUMP! and Vivid BAD SQUAD members have the same base theme colors, but in different tones:
The unit's names are based on the changing seasons (Akito as autumn, Toya as winter, Kohane as spring, and An as summer).
Vivivd BAD SQUAD was the first unit to have a unit-specific café collaboration in real life (WEEKEND GARAGE E-DINER Collaboration).
4★ Unit
| | | | | | |
| --- | --- | --- | --- | --- | --- |
| | | | | | |
| | | | | | |
| | | | | | |
| | | | | | |
| | | | | | |
| | | | | | |
References
External links
Units

Main
Units

Hatsune Miku

•

Kagamine Rin

•

Kagamine Len

•

Megurine Luka

•

MEIKO

•

KAITO

Other
Units