Associated pages
"An eccentric musical show unit, proclaiming each day wonderful and rushing out to meet it head on."
―Profile
Wonderlands x Showtime is a musical show unit formed by five part-time actors in the Phoenix Wonderland stage.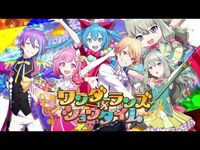 Background
At some point, Tenma Tsukasa was hired to work part-time at a theme park, but the Phoenix Wonderland Stage he was assigned to draws no customers. Then he met Ootori Emu who wants to restore the stage to its former glory.
Sekai
Their Sekai is a theme park world filled with fantastical encounters like singing flowers and walking stuffed animals.
The troupe leader KAITO and his helper Hatsune Miku put on stage shows to help the group discover their true feelings.
Members
Members
Virtual Singers
Songs
Trivia
External links