GTA: The Criminal Enterprises - The Loop
Play Sound

"An eccentric musical show unit, proclaiming each day wonderful and rushing out to meet it head on."
―Profile
Wonderlands x Showtime, often abbreviated to WxS, is a musical show unit formed by four part-time actors who perform on the Wonder Stage in Phoenix Wonderland.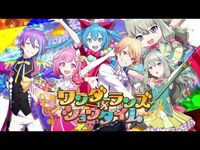 Background
At a popular theme park, a stage stands deserted. These members come together as one for the revival of the stage. Can they bring back the cheer and laughter to the stage?
—Colorful Stage Site

After failing his audition, Tenma Tsukasa is hired by Otori Emu to return the Phoenix Wonderland Stage to its former glory with incredible performances. The two actors recruit stage director and roboticist Kamishiro Rui and shy singer Kusanagi Nene, along with her robot replica Nene-Robo.
While Emu tries to convince Tsukasa to join the Phoenix Wonderland troupe, Tsukasa discovers a song named "Untitled" on his phone. Upon playing it, the two are transported to SEKAI. There, the pair meet Hatsune Miku, KAITO, and the plushies they perform with.
Sekai
Tsukasa's SEKAI, the Wonderland SEKAI, is a theme park world filled with fantastical encounters, like singing flowers and walking stuffed animals — forgotten creations made by a young Tsukasa for his sister, Saki, a long time ago. Onstage, troupe leader KAITO and his helper Hatsune Miku put on elaborate shows to help the group discover their true feelings.
Area Items
| Image | Kanji | English | Level Effect (Max) | Character/Unit | Charm Type |
| --- | --- | --- | --- | --- | --- |
| | ショースターの銅像 | Statue of a Star | 30% Boost on all stats | Tenma Tsukasa | |
| | ミニチュア | Mini Model | 30% Boost on all stats | Otori Emu | |
| | 歌うロボット | Singing Robot | 30% Boost on all stats | Kusanagi Nene | |
| | ドローン入りのショー道具 | Show Kit (Drones Incl.) | 30% Boost on all stats | Kamishiro Rui | |
| | ミク(?)のきぐるみ | Miku(?) Mascot | 6% Boost on all stats | Hatsune Miku | |
| | 座長のショーステッキ | Showman's Baton | 30% Boost on all stats | KAITO | |
| | パレードフロート | Parade Float | 7.5% Boost on all stats | Wonderlands x Showtime | |
| | ショーフラッグ | Show Flag | 7.5% Boost on all stats | Wonderlands x Showtime | |
| | ミュージックスピーカー | Music Speakers | 1.5% Boost on all stats | VIRTUAL SINGER | |
Members
Members
Virtual Singers
Songs
Trivia
Wonderlands x Showtime is the first unit to have all six Virtual Singers in its SEKAI.
While Tsukasa, Nene, and Rui attend Kamiyama High School, Emu attends Miyamasuzaka Girls Academy. She often sneaks into Kamiyama so she can eat lunch with them, or waits for them at the school gates after school.
Wonderlands x Showtime and 25-ji, Nightcord de. are the only two units in which a single person (Tsukasa and Mafuyu) is responsible for the creation of their respective SEKAI. Thus, their SEKAI is filled with things related to them, though it seems that if the owner of the SEKAI allows other people to access their SEKAI, those people can also influence it as well.
All four troupe members were inspired to become performers because of a play or concert they saw when they were young.
Each member's name is a reference to a legendary being: Tsukasa (pegasus), Emu (phoenix), Nene (the Kusanagi sword), and Rui (god).

Although she is not a member of Wonderlands x Showtime, Seiryuin Sakurako also follows this theme, with her surname being a reference to the Azure Dragon.
4★ Unit
| | | | | | |
| --- | --- | --- | --- | --- | --- |
| | | | | | |
| | | | | | |
| | | | | | |
| | | | | | |
| | | | | | |
| | | | | | |
References
External links
Units

Main
Units

Hatsune Miku

•

Kagamine Rin

•

Kagamine Len

•

Megurine Luka

•

MEIKO

•

KAITO

Other
Units